As we become more mindful of the impact of our actions on the environment, it's crucial that we find ways to reduce waste and minimize our carbon footprint. Traditional product packaging materials have long been a source of pollution, but with increasing awareness and demand for sustainable packaging, businesses are now turning to more environmentally friendly options such as metal tins. Investing in green packaging aligns with consumer expectations and is a responsible and necessary step toward creating a more sustainable future. This guide will help you understand the reasons why sustainable packaging is vital and how you can make a positive difference.
What Are Metal Tins?
Tin is an eco-friendly alternative that is becoming increasingly popular in the packaging industry. It is a common material made from a renewable resource that is biodegradable and recyclable. The option of custom tins expands the possibilities even further as they can be made from various types of tin sheets such as sandblast tinplate, Lazer film tinplate, normal tinplate, and galvanized steel.
The metal tin is made of Tinplate which is a thin steel sheet coated by tin, it has a beautiful metallic luster and excellent properties such as corrosion resistance, solderability, and weldability. Tinplate is used for a wide range of containers, from food tins to luxury wine tin packaging.
The production process of metal tin boxes also has a lower environmental impact, requiring fewer chemicals and allowing for easy recovery and reuse without affecting the final product quality. The natural silver metal color of tin is also an attractive feature without the need for extra processes that can weaken the material and drive up costs.
The issue of plastic pollution is a pressing one, and it's becoming more crucial than ever to find sustainable alternatives to traditional plastic packaging. About 32% of all plastic used in the packaging industry won't end up in the trash. The problem with that is plastic takes hundreds of years to decompose. But there is hope. Metal tin packaging is an eco-friendly alternative that is increasingly being recognized as one of the solutions to the plastic problem.
Benefits Of Metal Tins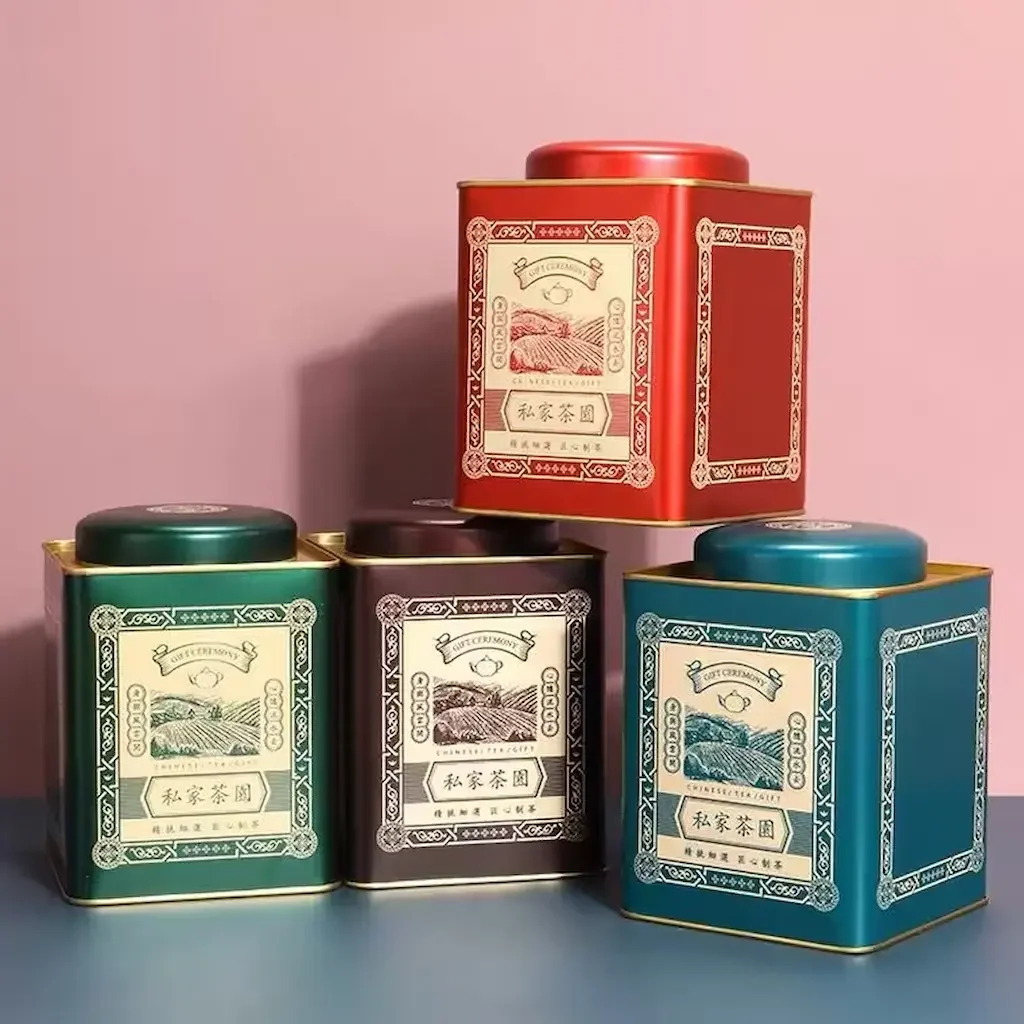 With the increasing awareness of environmental sustainability, many businesses are making the switch to metal tin packaging due to its numerous benefits. From preserving the freshness and quality of products to their durability and recyclability, metal tin packaging offers a range of advantages that make it an attractive choice for companies.
1. Metal Tins Are Versatile
Metal tins offer a wide range of possibilities for packaging, from practical storage and food-grade containers to decorative gift tins and festive holiday packaging. With the option for custom designs, businesses can find the perfect fit for their products and brands.
2. Metal Tins Are Durable
Metal tins are a dependable and resilient option for packaging. Their sturdy construction allows them to withstand the rigors of transit and handling, making them ideal for protecting delicate products from damage. The natural steel used in these boxes is particularly durable, surpassing recycled alternatives due to its composition. However, it's important to note that like any material, metal tin can be affected by exposure to water and may need to be treated with special resins when used to package wet items.
3. Metal Tins Are Eco-Friendly
Metal tin packaging offers a sustainable and environmentally conscious choice for businesses. As a 100% eco-friendly material, tin has a minimal impact on the environment and can be quickly recycled when disposed of properly. To ensure the packaging is completely compostable, it should be free of any plastic insert or special resins. An open cut-out window is a great alternative that allows customers to see the product while staying true to eco-friendly packaging. Additionally, metal tin is a highly recyclable material, making it an excellent choice for companies looking to reduce their environmental footprint by repurposing old packaging.
4. Metal Tins Are Cost-Effective
Metal tins are an economical option for packaging, offering a cost-effective solution for businesses of all sizes. They are made from readily available materials and can be quickly produced in large quantities, resulting in lower production costs. Additionally, their durability means they can be used multiple times, reducing the need for frequent replacement. These cost-saving benefits make metal tin boxes a smart choice for budget-conscious businesses looking for a high-quality packaging option.
5. Metal Tins Are Highly Customizable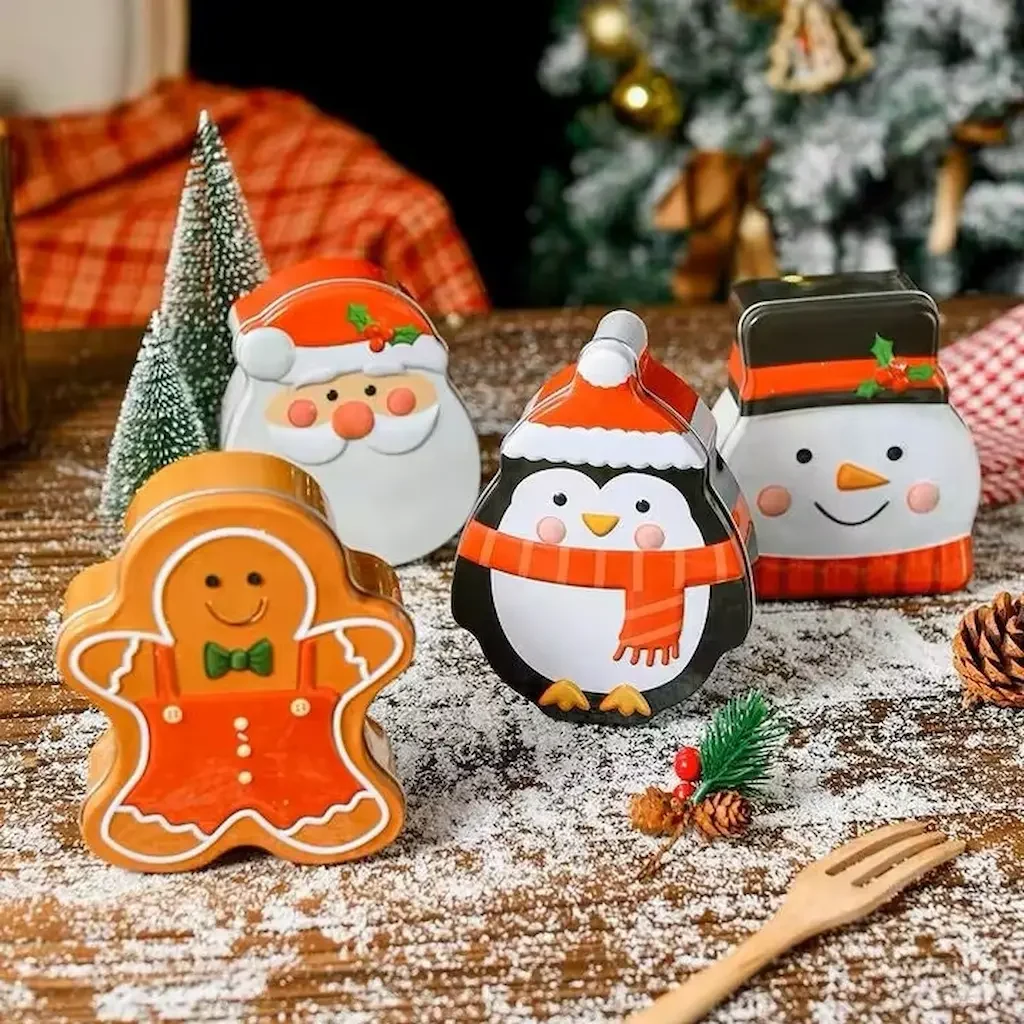 Metal tins offer a wide range of customization options for businesses looking to create a unique and memorable packaging experience. They can be manufactured in a variety of colors, dimensions, and shapes, and natural tinplate is print-friendly. With the use of offset printing machinery, you can personalize your tin packaging with logos, designs, and product details that are eye-catching and engaging. While custom printing may incur additional costs, there are other cost-effective ways to personalize your metal tin boxes such as decorating them with stickers, ribbons, and stamps.
6. Metal Tins Are Food Contact
Metal tins are commonly used for food packaging and storage. They are made of tin-coated steel, which is a safe material for food contact. Tin is a highly corrosion-resistant metal and is also non-toxic, making it suitable for packaging and storing food products. The tin coating also helps to protect the steel from rust and other forms of corrosion, further ensuring the safety of the food stored inside.
Tin Can vs. Tin Box
| | | |
| --- | --- | --- |
| Features | Tin Can | Tin Box |
| Material options | tin-plated steel | tin-plated steel, sandblast tinplate, Lazar film sheet, Galvanized steel |
| Shape | Cylindrical container | can be customized into any shape, size, and design. |
| Usage | Food or Liquid packaging | Confectionery storage, tea, cookies, cosmetics, candles, gift boxes, and more |
| Seaming | Welded side seam body | side seam body |
| Production | automated process | automated process or manual |
| Recyclable | Yes | Yes |
| Versatility | High | High |
| Carbon Footprint | Low | Low |
Tin cans and tin boxes are both made of tin-plated steel and are used for packaging and preservation of various products such as food, beverages, cosmetics, and appliances. However, there are some key differences in terms of sustainability, eco-friendliness, handling during shipping, and cost.
Sustainability and Eco-friendliness:
Tin cans are widely recyclable and have a high recycling rate due to the metal recycling process being well established.
Tin boxes, on the other hand, may not be as easily recyclable as tin cans due to their shape, size, or lid type. Handling during shipping.
Handling During Shipping
Tin cans are more durable and can withstand rough handling during shipping. They are also stackable and take up less space, making them more efficient for shipping.
Tin boxes, however, may not be as durable and may be more prone to damage during shipping. They also take up more space, which could lead to higher shipping costs.
Tin cans are primarily used for packaging and preservation of food and beverages. They are airtight and can protect the contents from moisture and light, which can extend the shelf life of the product.
Tin boxes are used for a wide range of products, including confectionery, cosmetics, and gift boxes. They can also be used for storage or decorative purposes.
Cost:
Tin cans are generally more affordable than tin boxes due to the high volume of production and the efficiency of the manufacturing process.
Tin boxes may be more expensive due to their more complex designs, lower volume of production, and specialized machinery.
Both Tin cans and Tin boxes have their own advantages and disadvantages, depending on the product you are trying to package and preserve. Tin cans are generally more eco-friendly, durable, and affordable, but Tin boxes can be used for a wider range of products and can be more decorative.
Color Classifications Of Metal Tins
Metal tins have a sleek and elegant natural silver color, but with the use of advanced printing techniques, the background color can be transformed into a variety of vibrant hues, including white and gold, adding a touch of style and personality to any design.
1. Natural Silver Metal Tin
When printing on metal tins, the natural silver color serves as a stunning backdrop for designs that showcase a metallic silver finish. This creates a striking contrast that highlights the design and captures the attention of all who see it. Another technique is to leave certain areas of the metal tin unprinted, preserving its natural silver color, and creating a partial transparency effect that adds a unique and eye-catching dimension to the overall design.
2. White Color Metal Tin
Applying a highly saturated white coating to the metal surface eliminates any transparency, resulting in a uniform white background. The printed designs on the white surface will be very similar to the designs printed on white paper. This technique is ideal for designs that do not require a metallic or transparent effect. It allows for a flawless reproduction of colors, providing a clean and polished finish that perfectly showcases the design.
3. Spot White Ink Metal Tin
By selectively printing white onto certain areas of the metal surface and then applying designs on top, it creates a contrast between the white background and the designs, resulting in a sharp, vibrant, and striking image. The colors will be similar to those printed on white paper but with an added metallic touch. This technique is ideal for designs that require a metallic or transparent effect, making them stand out and capture the attention of all who see them.
Material Options of Metal Tins
The key to our success is the quality tinplate that forms the basis of all our products. With this exceptional material, we are able to create promotional packaging that truly stands out from the competition. We take pride in using the best quality tinplates to create unique and personalized metal tin boxes in a variety of shapes, sizes, prints, and styles. Tinplate is not only eco-friendly but also highly versatile, making it a perfect choice for creating high-impact branding. We are well-versed in the different types of premium tinplates available in the industry, including Tinplate sheets, Sandblast steel sheets, and Laser film tinplate sheets, which all lend a distinct look, feel, and perception to your brand packaging.
1. Tin-plated Steel
2. Sandblast Tinplate
3. Lazer-film Tinplate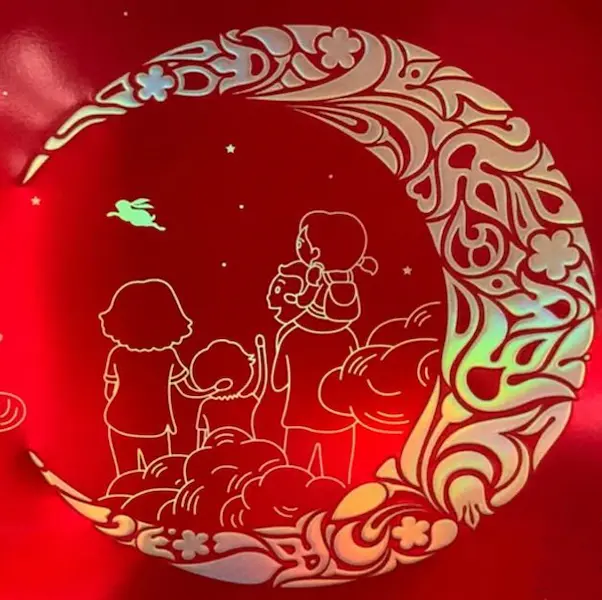 Metal Packaging Designs
Metal tins are a versatile and elegant choice for packaging, with a wide range of uses. From functional storage tins to promotional gift boxes, here are some unique packaging and gift box ideas that you can use with tin materials.
1. Confectionery Tins
Confectionery tins are metal containers used to store and package various types of sweets and candy such as chocolate, candy, and fudge. They come in a wide range of shapes, sizes, and designs, from classic round tins to more unique and decorative shapes. They are often used by confectionery makers and manufacturers, as well as by retailers for packaging and displaying products. They are made of metal, typically steel, which is durable, long-lasting, and able to protect the confectionery inside from light and air, which can affect the taste and appearance of the confectionery. They can also be decorated with colorful designs and printed with branding, making them an attractive packaging option for confectionery products.
2. Cosmetic Packaging Tins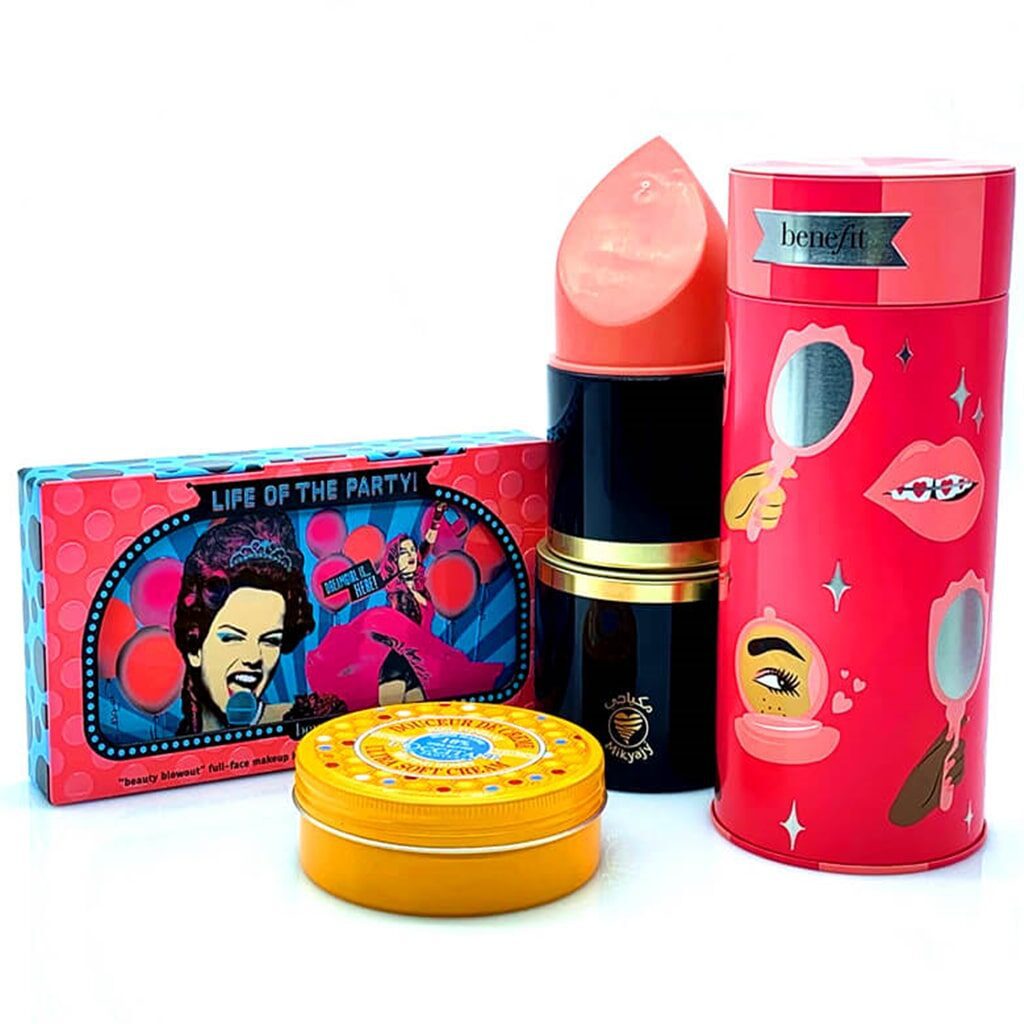 At our tin factory, we pride ourselves on offering unparalleled customization options for the design of your cosmetic tins. We understand that every client has unique preferences and we are here to make sure that your vision is brought to life. Our team of experts is dedicated to creating unique, eye-catching designs that will help your brand stand out. And, if you need assistance in developing your design, our team is more than happy to provide free support and guidance. Additionally, we take great care in ensuring that the quality of the tins is of the highest standard to protect your cosmetic products and keep them safe. Your satisfaction is our top priority and we will go above and beyond to exceed your expectations.
3. Luxury Wine Packaging Tins
Luxury wine packaging tins are high-end metal containers that are used to package and present premium wines. These metal tins are typically made of high-quality tinplate. They come in a variety of shapes and sizes, from classic rectangular or cylindrical shapes to more unique and decorative designs. The metal tins can be embossed, debossed, printed, or coated with color to give them a luxurious look and feel. They are often used by high-end wineries and wine merchants to package and present their premium wines, as well as by companies that produce wine accessories or gift sets. They are also a great packaging option for wine as a gift, corporate gifts, or any special occasion. These tins are not only functional but also elegant and sophisticated, making them a perfect choice for luxury wine packaging.
4. Candle Tins
Our candle tins are the perfect complement to your brand's collection of scented, floating, and various-sized candles. Whether you need a single candle or multiple candles packaged together, we have the perfect solution for you. Our high-quality candle tins not only provide durability but also boast an alluring aesthetic design. Our team of professional designers is dedicated to creating custom designs that will make your brand stand out. The vibrant and visually striking tin packaging will enhance the beauty of your candles and attract the attention of customers.
5. Christmas Decorative Tins
At Tinshine, we understand the importance of making your products stand out during the holiday season, and our Christmas decorative tins are the perfect solution. These tins are not only great for sales, but they also add elegance and sophistication to edible products like cookies, chocolates, candies, and other small gifts that are packed inside. Whether you are looking for a special gift for kids, friends, or clients, our Christmas decorative tins are a perfect choice. We offer a wide variety of tin shapes, sizes, and custom designs, including printing, varnish, and embossing options, so that your product will stand out on the shelves. Let us help you make your holiday season even more special with our beautiful and unique Christmas decorative tins.
6. Easter Egg Tins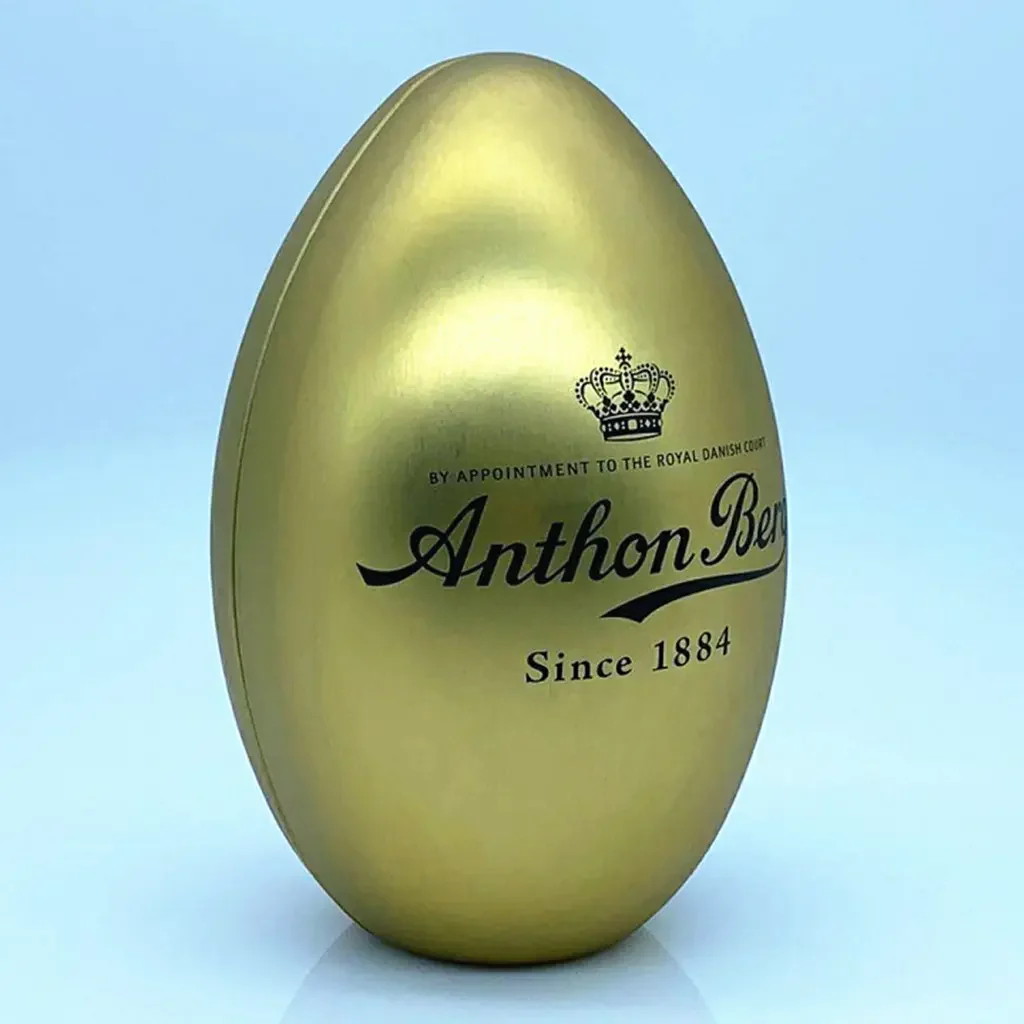 Easter is a time of renewal and celebration, and our egg-shaped tins are the perfect way to mark this special occasion. These Easter egg tins are an iconic symbol of Easter and the perfect way to package your Easter treats. We offer a wide variety of sizes to suit your needs, whether you need a small egg tin for a single egg or a larger one to hold a batch of eggs. And, our tins are fully customizable, allowing you to add your company's logo or a special message, making them a great marketing tool as well as attractive packaging. We are dedicated to ensuring that your Easter treats are presented in the most beautiful and appropriate way, and our egg-shaped tins are a perfect choice.
7. Promotional Gift Tins
At our tin factory, we understand the importance of making a lasting impression with your gift packaging. That's why we offer a wide range of customization options for your gift tin boxes, allowing you to truly personalize them to your liking. Whether you prefer a classic, solid color design or something more unique with personalized messages or images, we have you covered. Additionally, you can also choose from a variety of box shapes to make your gift even more special. And, regardless of the size of your gift, we can create a tin box to perfectly fit it. Our team of experienced designers is always on hand to provide expert guidance and support at no additional cost, ensuring that you are completely satisfied with your final design.
8. Window Tin Boxes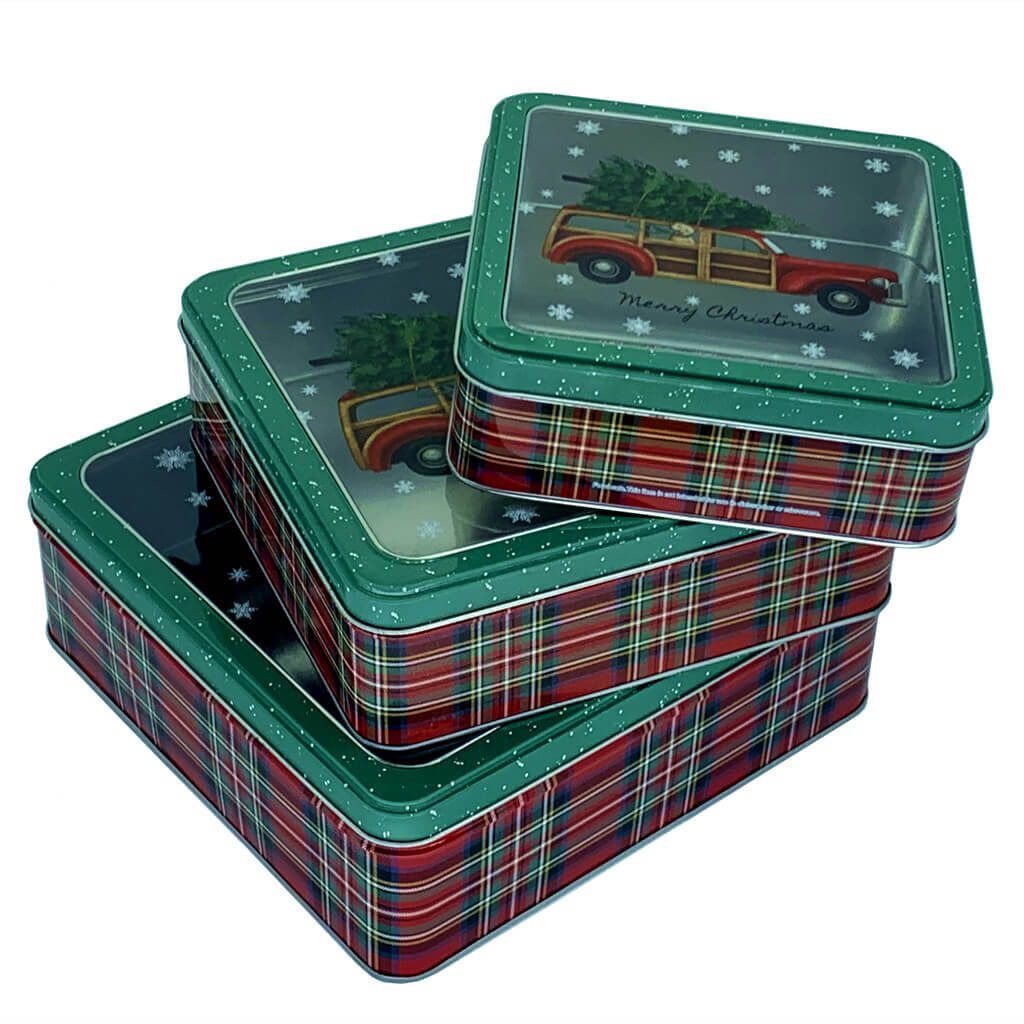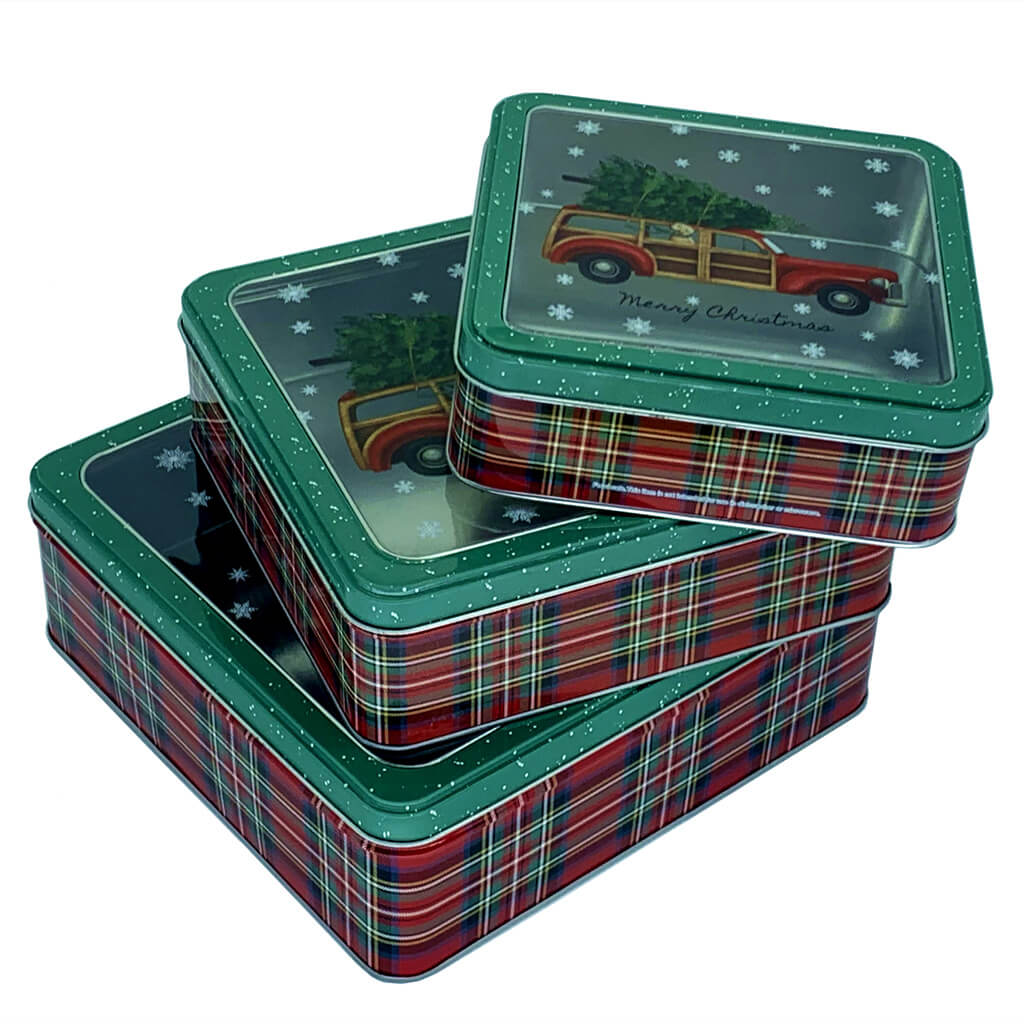 Our window tin boxes are perfect for showcasing bakery items like cookies, confections, and tarts. The clear PVC window allows customers to see the product without having to rely on the salesperson's description. They are also great for gifting, as they can be designed in different themes and colors to coordinate special events such as birthdays, weddings, Christmas, and more. With Tinshine, you can establish a strong image in the market with our custom window tin boxes.
9. Tin Eyeshadow Palette Packaging
The tin eyeshadow palette packaging is typically made of tin, which is a durable and lightweight metal that is well-suited for packaging cosmetics. The tin eyeshadow palette is often rectangular or square and has a hinged lid that opens and closes to reveal the eyeshadow palette inside. The tin eyeshadow palette may also have a mirror or other features, such as dividers or brush holders, to make it more convenient and functional. The tin eyeshadow palette is often decorated with attractive designs or finishes, such as glitter, foil, or embossing, to make it more appealing and attractive to consumers. At Tinshine, we have existing tin palette sizes as below:
1 pan size is 68x68x14mmH
3 pan size is 102x62x13mmH
6 pan size is 127x93x17.5mmH
8 pan size is 129x72x15mmH
Printing And Finish On Metal Packaging
1. Offset Printing
Offset printing is a widely used technique for creating intricate and vibrant designs on metal tin boxes. Also known as offset lithography, it involves using printing plates made of zinc or aluminum to transfer an inked image to a rubber blanket and then onto tin material. One of the advantages of this method is that it utilizes oil-based inks, which are specially formulated to work well on tinplate materials. The result is full-colored, high-quality designs that enhance the overall appeal of your packaging.
2. CMYK Color (4C)
The CMYK color direction indicates that the color of the design will be printed on the tin is the CMYK printing method. This method uses screens of Cyan, Magenta, Yellow, and Black (K) to create a full-color image.
3. PMS (Pantone Color)
A PMS or Pantone color direction adds an extra layer of precision to your design. Each individual Pantone color is expertly applied to the tin, using heat to ensure a perfect match. This method allows for a maximum of 8 Pantones, adding a unique and distinct touch to your design.
4. Glossy Varnish
Tin has a natural luster that enhances the visual appeal of any design. The glossy finish is the default unless a matte finish is requested. However, it's important to note that stretching the tin may lose its luster and shine.
6. Matt Varnish
Matt varnish gives a softer, more subtle appearance and is non-reflective, making it better suited for packaging with a lot of text or text that needs to be read from a distance. However, it does not stand out as much as gloss varnish.
7. Spot Matt
Spot Matte is a clear coating that adds depth and dimension to your design. This method combines the use of matte and gloss varnish to create a visually striking contrast that highlights certain elements of the invention, bringing it to life in a unique way.
8. Crackle Finish
Crackle varnish is a type of paint or finish that creates a crackled or distressed look on a surface when it is applied. The process involves applying a glaze to the tin and then heating it, causing the top coat to crack and giving it a charming, aged look.
9. Leather-Like Embossing Finish
There is a special type of embossing that is characterized by its high density and precision requirements. This allows for the simulation of a different type of material effect. Our tin box manufacturer has thoroughly studied the characteristics of the leather and successfully created a similar leather-like embossed effect on tin boxes. Using advanced machinery, they were able to achieve high-density embossing, making it a breakthrough in the field of tin box manufacturing and a valuable packaging solution.
This leather-like embossing technique has been successfully applied to various products, including Chivas whiskey tin boxes and POLLUX Golden Dragon whiskey tin boxes.
The exterior surface of the tin boxes is created by combining fine printing with various forms of detailed embossing, creating a sense of depth and highlighting a unique design effect. The tin boxes also extensively use leather-like textured embossing, visually reproducing the effect of leather and improving the tactile experience with a similar feeling to leather. The difficulty of this high-density embossing lies in the precision of the embossing mold and the accurate alignment during the production of the tin boxes, even slight deviations can result in a defective product.
Our tin box manufacturer has successfully applied this leather-like embossing to various products, including whiskey and healthcare product tin boxes, raising the level of the products and gaining high recognition from customers.
10. Embossing And Debossing Finish
Enhancing the texture of your gift tin boxes and packaging through embossing and debossing adds a level of sophistication and uniqueness to your products. The raised areas and indentations create a tactile and visually appealing surface that will surely catch the attention of consumers. This technique, when combined with a metallic luster, adds an extra dimension of elegance to your packaging, elevating the overall aesthetic and perceived value of your products.
What Makes Metal Tin Boxes Eco-Friendly?
Sustainability in packaging goes beyond just the materials used. It encompasses the entire lifecycle of the packaging, from the way it is produced to its ability to be reused or recycled. By considering all of these factors, we can make packaging choices that are not only good for the environment but also better for the planet.
1. Material
Metal tins, crafted from all-natural tinplated steel, offer a sustainable packaging option. Recyclability is an important aspect of sustainability, but it is not the only one. The responsible sourcing of materials used in the production of metal tins also plays a crucial role in ensuring that this packaging is both eco-friendly and good for the planet.
2. Production Process
Choosing sustainable packaging not only involves the materials used but also the production process itself. Metal tin boxes are a great example of this, as they are made from natural steel and undergo a tinplate process that requires minimal chemicals. This process is also self-sustaining, as the chemicals used can be recovered and reused. Additionally, any byproducts of the process can be repurposed to create other items, further reducing waste and environmental impact.
3. Reusability and Recyclability
The end result of the tinplate process, the tinplate itself, is not only reusable and recyclable but also a perfect example of closed-loop packaging. Consumers can repurpose their empty metal tin boxes for storage or transportation of household items at home. When they have reached the end of their life, they can be recycled, giving them a new life as new packaging materials, thereby reducing waste and preserving the environment.
What Do Consumers Think of Sustainable Packaging?
Sustainability in packaging is more important than ever for modern businesses. With the world producing an overwhelming amount of waste, particularly plastic that ends up in landfills and oceans, it is crucial for companies to take responsibility and make a positive impact on the planet.
Here are some figures from Ocean Conservancy that should concern you:
2.5 billion metric tons of solid waste are manufactured globally
275 million metric tons consist of plastic
150 million tons of plastic are stuck in marine environments around the world
8 million tons of plastic enter the oceans every year
Consumers are becoming increasingly conscious of the environmental impact of businesses, and they are willing to pay more for products that have sustainable packaging. Adopting eco-friendly packaging options, such as metal tin boxes, can not only show customers that a business cares about the environment but also help to reduce the amount of plastic entering oceans.
In a study, Trivium Packaging found that 74% of customers are willing to pay extra for products that have green packaging. Of that number, about 25% said that they are willing to pay more than 10% for sustainable packaging.
Nearly 50% of consumers avoid harmful packaging like plastics. Of that number, 68% associate plastic with ocean pollution, which isn't wrong.
Using sustainable packaging is not only a responsible choice for the planet, but it is also a smart business decision. It can help to gain the trust of environmentally conscious consumers and can even increase customer loyalty. By choosing metal tin boxes for packaging, you can contribute to the solution and make a positive impact on the planet.
Metal Packaging Market Updates and Trends
The demand for sustainable and recyclable packaging solutions is on the rise, and metal tin boxes are becoming increasingly popular as a result. The global market for metal packaging is expected to reach $147.4 billion by 2030, driven by factors such as the growing demand for food & beverages and pharmaceutical packaging, as well as the rise of e-commerce sales due to the lockdowns. The growth of metal packaging will be driven mostly by this demand for sustainable and recyclable packaging solutions.
Metal tin is becoming a go-to packaging solution for various industries, including food and confectionery, automotive, pharmaceuticals, and cosmetics. The North American region is expected to have the largest revenue share in the global market, thanks to its thriving food industry and increasing recycling practices in the region.
Using metal tin boxes not only helps to promote sustainability and recycling but also provides a cost-effective and practical solution for packaging needs. It's a win-win situation for both the environment and the industry, as industry growth and sustainability go hand in hand.
Build a More Sustainable Future with Metal Packaging
The push towards sustainable business packaging is stronger than ever, and choosing metal tin boxes as a packaging solution is a step in the right direction toward reducing plastic waste and pollution. By implementing eco-friendly alternatives into your operations, you can play a role in preserving the environment and the communities you serve.
Tinshine is a leading provider for some of the world's top companies, offering fast production times, competitive pricing, and a limitless approach to custom tin packaging. Let us help you turn your packaging into a differentiator for your business. Contact us today and a dedicated packaging specialist will work with you every step of the way to create the perfect custom tin packaging solution for your needs.