No matter how good-tasting your chocolate is, you can't lead people to purchase if they don't notice your box. That's why the design of your chocolate packaging is crucial, both on its own and in comparison to other competing brands.
Here at Tinshine, we specialize in creating custom chocolate bar packaging that perfectly fits the unique dimensions of your product. Our goal is to provide a snug and flawless packaging solution for your chocolate bar
But how should you approach the design of your chocolate bar packaging? In this article, we've gathered the best chocolate bar packaging examples for your inspiration. By exploring the design choices made by various chocolate brands for their delightful confections, you'll find yourself brimming with creative ideas.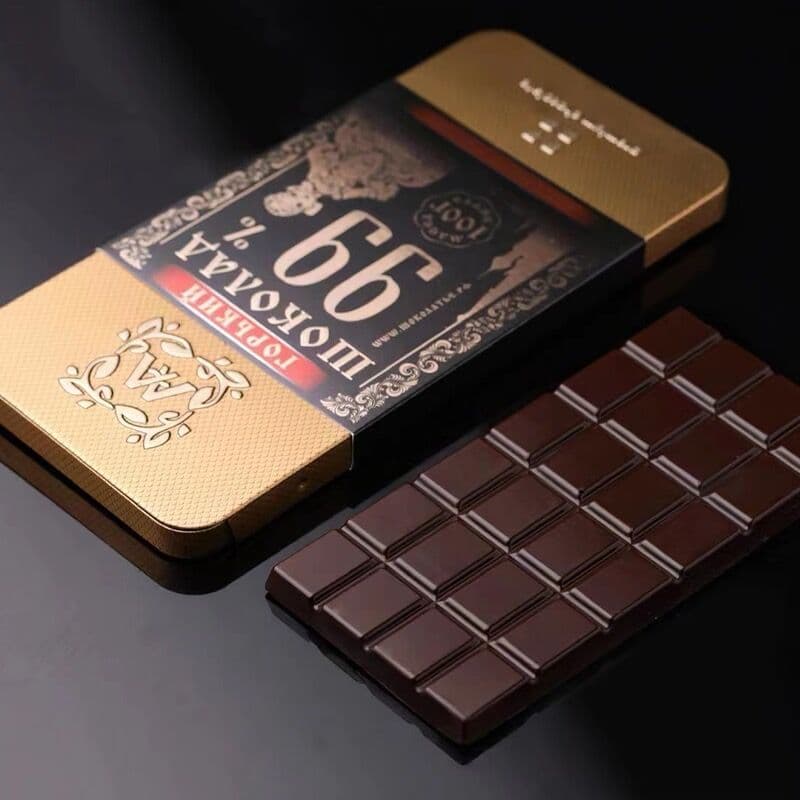 Why Does Chocolate Bar Packaging Matter?
Your chocolate bar is unique, just like its taste and texture. We understand that stock box sizes rarely match its requirements.
In a retail environment, quality chocolate bar packaging engages the customer and entices them to make a purchase. They also contribute to consistent branding and can create a positive impression of what a company represents.
When chocolate packaging is designed with quality in mind, it helps establish a strong brand reputation. And when a brand has a trustworthy reputation, it translates into increased sales.
So, it's easy to understand how this all begins with the packaging. Designed effectively, they can significantly boost sales and help earn customer loyalty.
Chocolate Bar Packaging As a Marketing Tool
Have you ever been amazed by how a product's packaging looks? Maybe you've even bought something simply because it caught your eye.
Studies have shown that the appearance of packaging, including the materials used and the colors chosen, can actually impact how customers perceive the taste of a product and whether they want to buy it.
By incorporating eye-catching graphics, appealing fonts, and innovative structural elements, chocolate packaging can create a memorable and positive brand experience. It can evoke emotions, such as anticipation and desire, as customers eagerly unwrap the packaging to reveal the delectable treat inside.
Now, let's take a look at the chocolate bar boxes pictured below. If you were to glance at it quickly, which packaging stands out to you the most?
Custom Chocolate Bar Packaging
The packaging for Pierre Ledent chocolate bars is designed to be both sleek and contemporary, featuring vibrant colors and dynamic artwork.
They have opted for a straight metal tin box, with the chocolate flavors mentioned using embossed letters and Pantone color prints.
On the back panel, they provide essential information, along with a brief description of their mission. As we mentioned before, establishing a connection with customers is a key aspect of packaging.
Inside each bar box, you will find individually packaged smaller weights of chocolate, each with a unique flavor.
At Tinshine, we specialize in creating customized, high-end packaging specifically tailored for chocolate bars.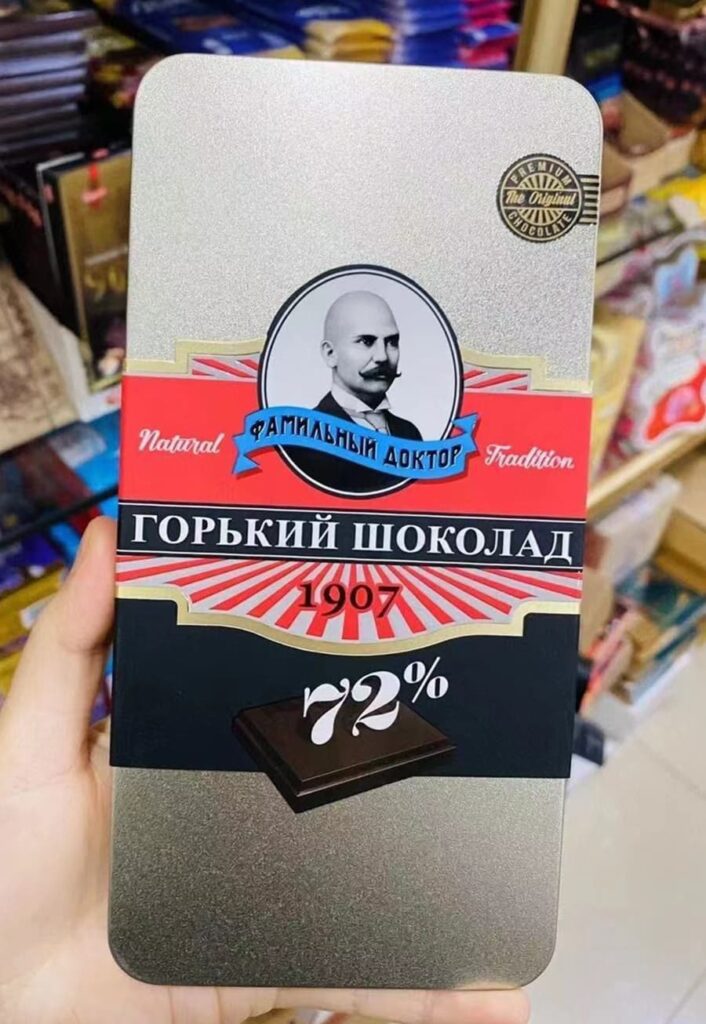 Custom Chocolate Bar Box
Here's an example of how using bold and light fonts together can create a strong design. The designers chose a natural metal silver color and applied it to each specific chocolate type. They used a sandblasting technique on the tin box, which gives the chocolate bar packaging a luxurious and premium feel.
A chocolate manufacturer in Russia made a clever decision with their chocolate packaging. They used plain, unprinted tin boxes for all their different flavors and distinguished them by adding unique labels.
This approach eliminates the worry of running out of packaging for a specific chocolate type because all the boxes have a consistent look. Moreover, this packaging design helps them save on the costs of printing on tin boxes.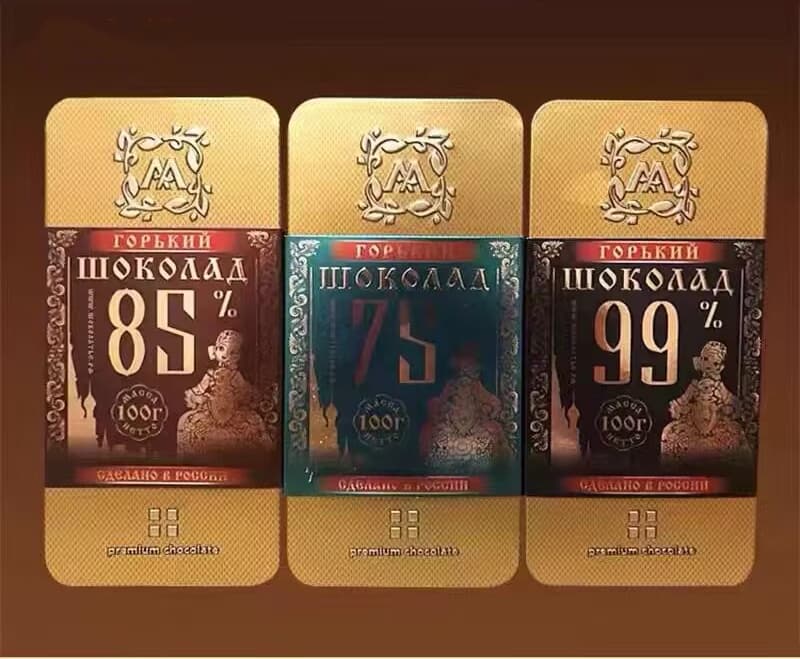 Luxury Chocolate Bar Packaging
This chocolate bar box features a shiny metallic gold design on the tin box and a paper label with hot foil stamping. They used a combination of gold foil stamping, embossing, and color printing, resulting in a luxury outcome.
The metallic gold color on the tin box creates a shiny and dynamic effect, shifting in shades as it catches the light.
The packaging for these chocolate bars takes a classic and vintage approach, keeping things simple yet captivating. The use of complementary brown and blue colors makes everything stand out against the background.
Vibrant Chocolate Bar Boxes
All the packaging design is inspired by a Puzzle game。 Each chocolate box shares the same embossing and print different vibrant background color to distinguish each chocolate flavor.
This creative approach adds an element of fun and intrigue to the chocolate packaging. Just like solving a puzzle, customers can explore and discover their desired chocolate flavor based on distinct and eye-catching colors.
The shared embossing pattern unifies the collection, creating a cohesive and visually appealing presentation. It's a delightful combination of design and functionality, enhancing the overall experience of choosing and enjoying these delectable chocolates.
Your One-Stop Custom Chocolate Packaging Manufacturer
At Tinshine, we understand the importance of creating a captivating and memorable experience through your chocolate packaging. That's why we offer a range of features such as metallic effects, embossing, windows, specialty finishes, and textures.
With our expertise in full-color printing and special print effects and coatings, we ensure your chocolate packaging has a powerful visual impact that sets it apart and enhances your customers' overall experience.
We strive to make your packaging journey as simple as possible. Our comprehensive in-house packing services cover everything from printing to shipping, whether you prefer automated or hand-packed solutions.
We minimize communication errors and reduce transportation time, enabling you to deliver high-quality products to your customers more efficiently. Email us today to discover how we can optimize your packing processes and support your business.