Tin box is a popular choice for product packaging due to its versatility, recyclability, and customization options.
It is often used to package a wide range of products, including food, luxury wine, and cosmetics, and is known for its durability and ability to provide structure and stability to retail packaging. Its versatility allows it to be customized to fit various box sizes and specifications, making it a go-to choice for many companies looking to brand their products and stand out on store shelves. Tin packaging has gained widespread popularity due to its many benefits and its ability to protect and showcase products stylishly and attractively.
Let's take a closer look at tin packaging and how it all works to deliver impressive structure, branding, and stability to your retail packaging.
What Is Tin Packaging?
Tin packaging is made from a single sheet of tinplate that is formed into a shape according to a tin mold. Metal tins are strong enough to hold a wide range of products and they are primarily used for dry product packaging compared to tin cans.
The History Of Tin Cans and Tin Boxes: Who Invented Tin Packaging?
Tin packaging has a long history that goes back to the 1800s. It's thought that a Frenchman named Philippe de Girard first came up with the idea, but a British merchant named Peter Durand patented it in 1810. This packaging method was based on earlier experiments with glass containers for preserving food. Durand, along with two Englishmen named Bryan Donkin and John Hall, improved the process. They started the world's first tin can factory for making packaged goods out of tin in London, making things for the Royal Navy.
At first, tin cans were sealed with a mix of tin and lead. This mixture could be harmful if not handled properly. There's a famous story from the 1800s where people on an Arctic expedition got sick from lead poisoning, which they thought was from the tin cans. But now, experts believe the lead poisoning was probably due to the ship's water pipes, not the cans.
Despite these early problems, tin packaging kept getting better. Today, tin cans are made using safe ways to seal them, and they're used for lots of things like food, household stuff, and personal care products. The American Can Company, founded in 1901 in the United States, has played a big part in making modern tin cans, making a lot of them in the country.
Why Tin Packaging?
Today, tin packaging has found a reliable home among store shelves around the world. When deciding on your tin box design and presentation, there are many reasons why choosing tin boxes, including:
Tin is a Luxurious And Sustainable Packaging Box
Tin packaging stands out as a luxurious and sustainable option in the world of product packaging. While other packaging materials may only excel in one area. With Eye-catching Metallic Reflectivity, tin combines the elegance and sophistication of luxury packaging with the eco-friendliness and sustainability of environmentally conscious options. Whether you're looking to package high-end cosmetics, gourmet food items, or other premium products, tin boxes offer the perfect combination of style and sustainability. Not only do they enhance the overall presentation of your products, but they also allow you to make a positive impact on the planet. Consider using tin packaging for a luxurious and responsible choice that truly sets your brand apart.
Tin Enhance High Shelf Appeal
Tin packaging is a beautiful and effective way to showcase your brand and increase its appeal to consumers. With their sleek and stylish design, tin boxes have a strong presence on store shelves and make a lasting impression on shoppers. The ample space on the surface of the tin allows you to showcase your brand message and highlight the unique features and benefits of your product.
In addition to its high shelf appeal, tin packaging also helps solidify your brand's reputation for quality and consistency. The durability and versatility of tin boxes make them suitable for a wide range of products, and their ability to protect and preserve your items ensures that they arrive in perfect condition.
Tin Is 100% Infinitely Recyclable Steel Packaging
Tin is 100% infinitely recyclable steel packaging, steel is the most recycled material in the world more than paper, plastic, glass, and aluminum combined, making it a responsible and eco-friendly option for packaging. Using eco-friendly tin packaging is a great way to showcase your brand's commitment to social responsibility. By choosing a sustainable packaging material, you can demonstrate your dedication to the environment and make a positive impact on the world. So, consider using tin packaging to tell your brand's story and make a lasting impression on your customers.
Tin With Specialty Varnishes And Precise Embossing To Boost Your Sales
Our tin packaging offers not only custom graphics and precise embossment but also a range of specialty finishes to enhance your design. The high-definition graphics combined with a gloss, matte, textured, or satin varnish, creates a sophisticated look that stands out. The option of spot varnish draws attention to specific elements of your logo or design, elevating its appearance. The combination of custom graphics and multi-level embossing truly makes your packaging a truly unique and memorable packaging experience.
Tin is The Highly Customizable Packaging Material
Tin packaging is highly customizable and can be designed to meet the specific needs of a product. It can be printed with custom graphics, embossed with logos or designs, and even manufactured in particular shapes and sizes. The versatility of tin packaging makes it a popular choice for businesses looking for unique and eye-catching packaging solutions.
Common Types of Tin Packaging Boxes
There are several distinctive types of tin packaging, each with its benefits depending on your needs. Companies turn to high-quality tin packaging to protect, store and showcase their food, cosmetics, supplements and so much more. Here are just a few of the many different types of tin packaging that are commonly used in retail packaging.
1. Welded Side Seam Tin
Welded side seam tin is a type of food packaging container used for products such as coffee, tea, supplements, and other dry goods. The tin is made by welding two sheets of metal together along the side seam to form a container and provide airtight condition. This type of packaging has several advantages, including the following:
Barrier protection: Tin provides a good barrier against moisture, light, and other elements that can affect the quality of the product.
Durability: Tin is a strong and durable material that can withstand the rigors of handling, shipping, and storage.
Recyclability: Tin is a highly recyclable material, making it an environmentally friendly choice for packaging.
Aesthetically pleasing: Welded side seam tins often have a high-quality finish and can be decorated with graphics, making them an attractive choice for packaging high-end products.
Tamper-evident: Welded side seam tins can be designed with tamper-evident features, such as a tab that must be broken to open the container, to help ensure the integrity of the product.
2. Seamless Tin
Seamless tin made from a single piece of tinplate without any visible seams or joints. This means that the sides of the tin are smooth and continuous, without any gaps or breaks. So the product on it will be entirely contained and nothing will leak. Seamless tins are perfect for moist or fine products that may leak out of a side or bottom seam in other types of tin cans. Seamless tins are a great choice for candles, cosmetics, and mints.
3. Standard Tin
Standard tins come in a range of sizes and shapes and can be customized with graphics and other decorative elements. They can be made with 3 pieces or 4 pieces or even more pieces depending on the specific needs of the product being packaged.
Build Your Brand with Tin Packaging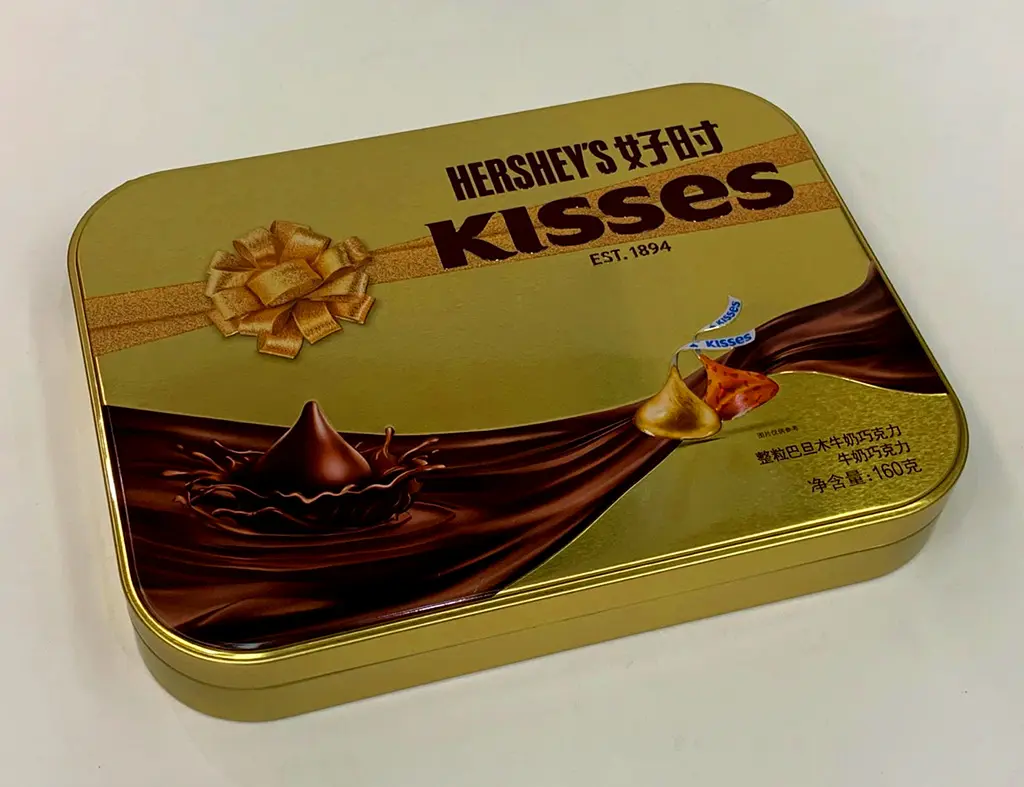 At Tinshine, we are dedicated to providing exceptional tin packaging solutions that showcase your brand and product in the best possible light. Our team of skilled graphic designers and packaging experts is here to help you every step of the way, whether you have a clear vision in mind or need guidance in finding the perfect tin packaging solution.
We offer a wide range of printing and finishing options, including UV coating, Metallic effects, and various glosses, to help your packaging stand out on the shelf. We also have extensive experience working with businesses of all sizes and industries, so you can trust that we have the knowledge and expertise to help you find the right packaging solution for your unique needs.
If you're considering tin packaging for your product, don't hesitate to reach out to us for a free, no-obligation estimate. Let's work together to create packaging that truly reflects your brand and resonates with your customers.