Is your current packaging not showing off your brand enough? Explore Tinshine's Luxury Wine Packaging, We combine high-quality tin material with custom printing, decorations, and inlays to elevate your brand wine packaging to new heights.
Custom Wine Box Manufacturer
Does your wine box packaging enrich the customer experience? In an industry as competitive as Wine & Spirits, innovation, and function are the keys to taking packaging from ordinary to exceptional.
Tinshine is a large-scale custom wine box manufacturer, We use tin material for branded wine packaging and have built a reputation as a leader in the wine packaging industry.
We offer a wide range of market-tested custom wine box shapes and sizes to suit your brand's unique needs. Our in-house manufacturing and printing controls every production stage to guarantee a high-quality tin box for you. 
Our tin factory has over 18 years of experience in the luxury packaging industry, We work closely with each of our clients to produce luxury wine packaging solutions that are tailor-made for your brand, price, sustainability, marketing, and product needs to captivate consumers and drive sales.
Material We Use For Luxury Wine Packaging
Tin packaging is so bold, unique, or exquisite that buyers will acquire or retain it for its beauty. The natural metallic tin can be embossed or debossed, and combines metallic and non-metallic colors, adding even more depth and luxury feel to the world's premium whiskeys and other spirits packaging.
 Why choose the tin box for whisky packaging?
Tin boxes can be reused and recycled forever. For the drink and spirits sector, in particular, many of our wine box packaging solutions have been designed to have a secondary function and promote longevity and reuse.
Wine tin boxes can be fully customized, printed and designed into different shapes and sizes.
Tin box looks appealing and luxurious. The tin box has a pleasing metallic luster, which allows whisky brands to create a consistent metallic gradient effect to feature a high-end sense of luxury to consumers.
Custom tin boxes always come with a custom inlay, ensuring that your premium wine bottle are elegantly nestled within the box, presenting them beautifully.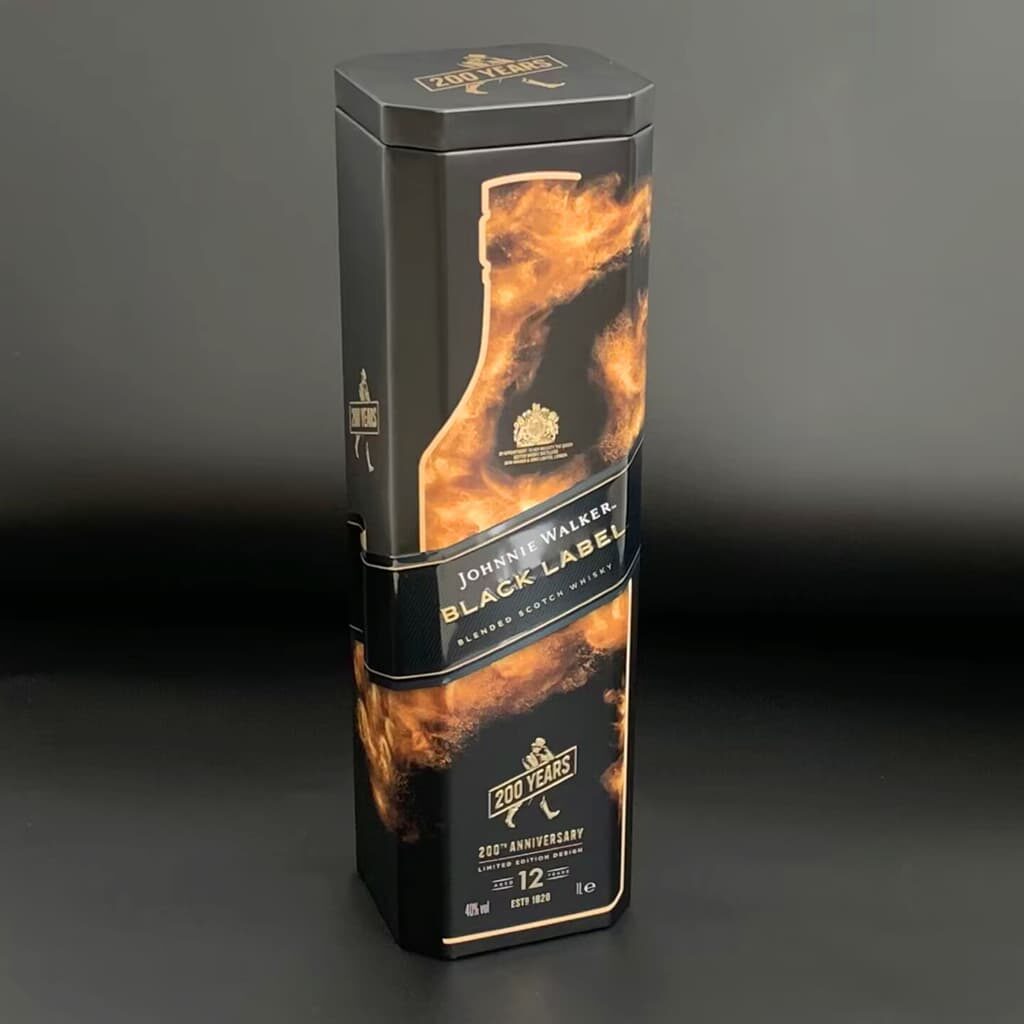 Branded Wine Tin Boxes We Manufacture
Whisky brands and international design companies prefer to work with our tin factory.  The top reason is that we make the packaging process easy. We have 18 years of experience in luxury wine packaging, and know how to turn your packaging vision into a reality.
The world-famous branded wine gift tins we manufactured are as below:
Johnnie Walker Black Label Gift Tin
Johnnie Walker Red Label Gift Tin
Buchanan's 12YO Blended Scotch Whisky Gift Tin
Jack Daniel's – Jukebox Gift Tin
Jack Daniel's – Jackmail Mailbox Whiskey Gift Tin
Ardbeg Gift Tin
 Chivas Regal 12 Gift Tin
Dalmore Limited Edition Gift Tin
 Glenmorangie 10 Years the Original – Giraffe Gift Tin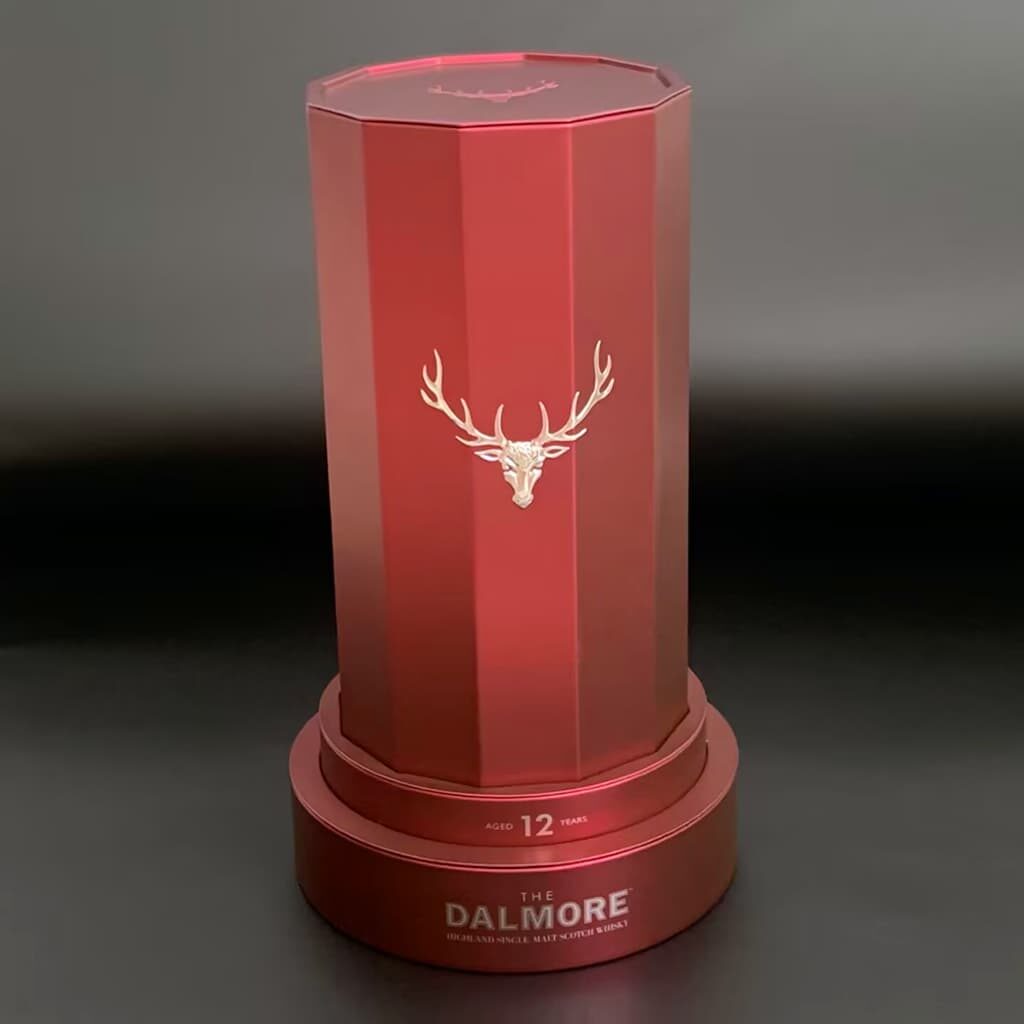 Benefits Of Working With Us
Tinshine has been the excellence in Luxury metal packaging since 2007.  Our company benefits are below: 
Service – Whether you have a detailed specification or just have a vague concept, we'll give you a range of novel options that fit your brand and pricing requirements, and make the packaging process easy and your side does not need to worry about everything.

Innovation – With our in-house printing factory, engineering & manufacturing experts, and all of the major processes involved with tin box manufacturing, We are driven by the desire to innovate and the passion for achieving top quality.

Automation – Through automation, we have been able to increase efficiency, shorten lead times, and contain costs. We can manufacture 1000,000 pcs of custom tins per day!

Existing molds – 

Our factory has around 3000+ sets of tin molds for your business-free use.
Audit – Our GMP printing and production workshop ensures that our tin products can be used for food, cosmetic, and luxury packaging under BRC, and HACCP standards.