Tin Containers Wholesale Supplier
Tinshine offers a wide selection of empty tin containers at wholesale prices for all your packaging needs! Our bulk and wholesale tin containers are printed and manufactured in China, these custom metal tins are the perfect solution for businesses and brands looking for cost-effective and eco-friendly packaging options. With a wide range of sizes, shapes, and designs available, we have the perfect tin container for you.
Tin containers are perfect for a wide range of products, including food, Mint Hard Candy, cosmetics, candles, and more. With a tight-fitting lid and sturdy construction, your products will be protected from the elements and look great on store shelves. And with our customization options, you can make your tin containers truly your own.
Why Choose Tin Containers?
Durability: Made from high-quality tin, our tin containers are built to last and protect your products from damage (360° full protection).

Customization: Choose from a range of sizes and shapes, and add your own design or logo to make your tin containers truly unique.

Eco-Friendly: Tin is a fully recyclable material (market recyclability rate 93%), making our containers an environmentally responsible choice.

Cost-Effective: Our bulk and wholesale prices make our tin containers an affordable solution for businesses of all sizes.
Tinshine is a global leader in tin container solutions that had fulfilled the needs and expectations of many of the world's most well-known brands. Our tin containers are not only functional but also visually stunning, with a seamless finish that adds a touch of luxury to your packaging. We take pride in ensuring that our containers are free from harmful chemicals like BPA and are 100% food-safe, making them a safe choice for all your packaging needs.
As the Chinese specialists in manufacturing tin containers and aluminum jars, our tin factory has fully automatic production lines for the manufacturing of cosmetic tin containers and aluminum jars in multiple diameters. Furthermore, we have 6 offset printing lines in-house and guarantee color printing capability and quality.
At Tinshine, We work according to the HACCP guideline and have BRC Packaging certification for food and cosmetic packaging. We fully understand what is necessary for the producers of food, breath mints, hard candy, and cosmetics, and work closely together with the customers to give them what they need. Whether you're a small business or a large corporation, our tin containers offer the perfect blend of style and affordability for all your packaging needs.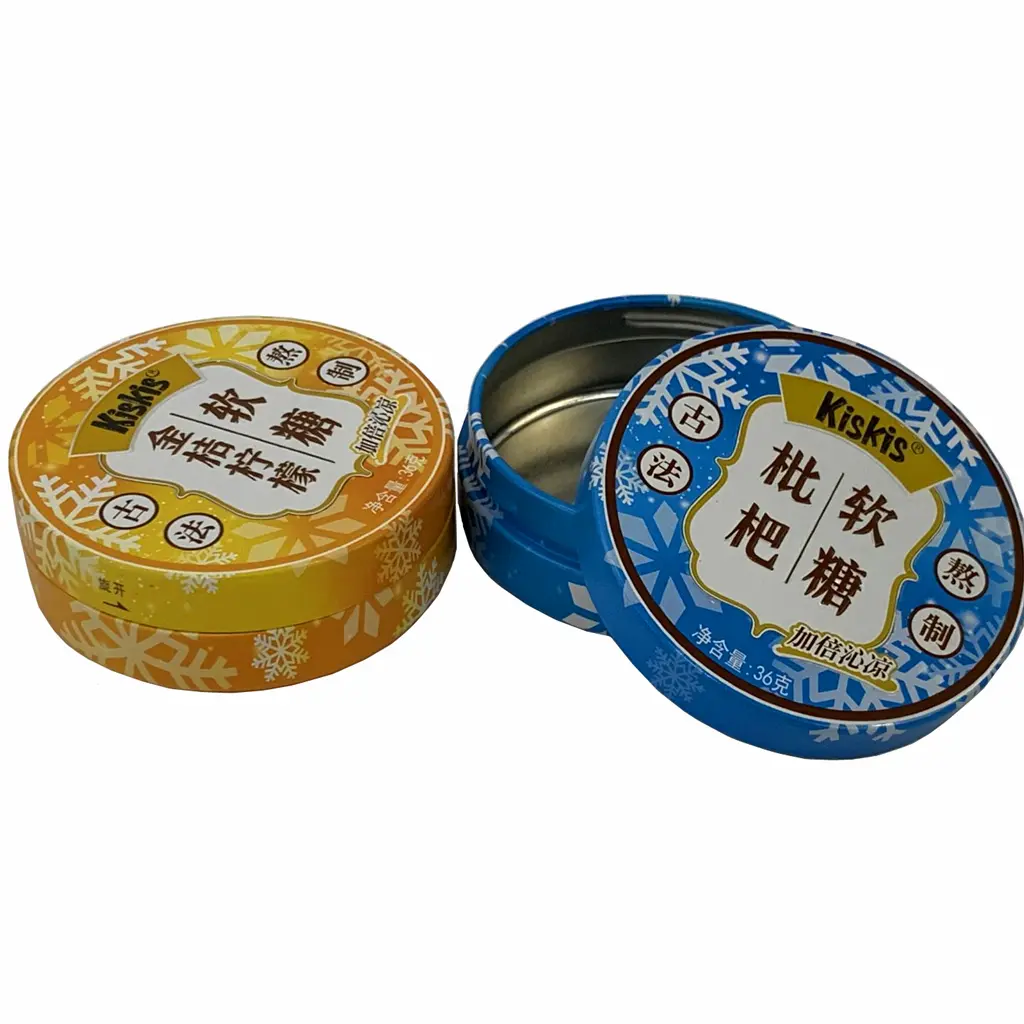 Tin containers are metal tin boxes designed for storage and promotion. Made of tinplate, a steel sheet coated with tin, tin containers offer durability and protection from moisture, making them ideal for food preservation and cosmetic packaging. 
Because of people being more environmentally conscious, the idea of using tin containers will start to become more popular. However, you may notice that the price of tin containers is a little bit higher than glass or plastic. but tin containers are totally eco-friendly and can be reused for various purposes. Embrace the beauty and practicality of tin containers for all your storage needs.
The durable and moisture-resistant nature of tin containers makes them an excellent choice for breath mints, throat lozenges, instant coffee, biscuits, and holiday treats. 
What Metal Containers We Offer?
Tin containers and aluminum jars are both commonly used for storing food, cosmetics, spice, candle, confectionery, and other products. Both materials have their own unique properties and advantages, which can affect the choice between the two.
Metal Tin Containers Wholesale
Tin containers are a popular choice for storing food, cosmetics, and other products due to their durability and leak-proof qualities.
These containers are made of tinplate, which is a type of steel that has been coated with tin to provide added protection against corrosion and rust. Tin containers are often cylindrical in shape and can come in various sizes, colors, and designs to suit different needs. 
They are known for their timeless and trusted look and feel, making them a popular choice for both personal and commercial use. Tin containers are also known for their resistance to damage, such as dents or deformities, making them a durable and long-lasting option for storage and transportation.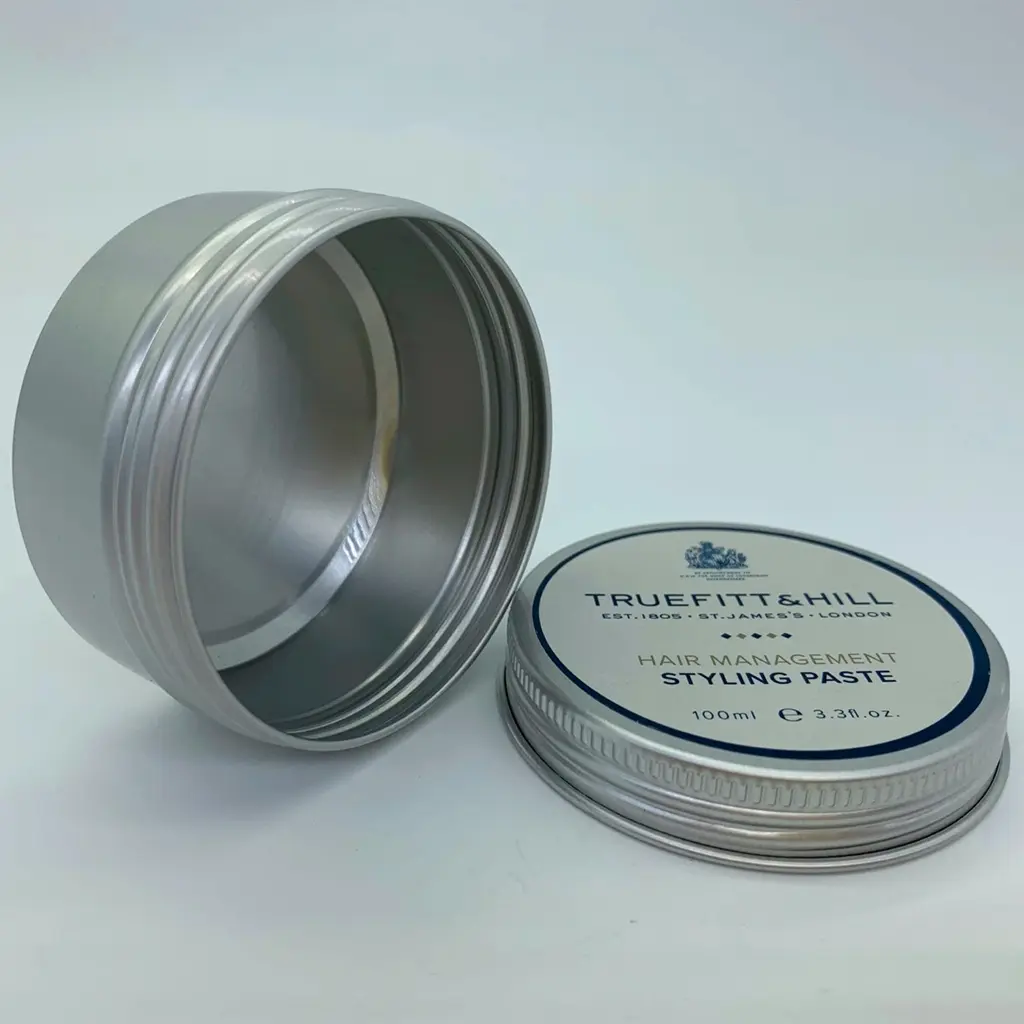 An aluminum jar is a type of container made from aluminum.  it's a newer addition to the world of metal containers, but they have quickly become a favorite among consumers due to aluminum materials being affordable, lightweight, and do not rust. 
Aluminum is a lightweight metal that is resistant to corrosion and can be easily recyclable. It also provides a sleek and modern look, making aluminum jars a perfect choice for storing any number of things, from spices, cosmetics, gifts, and hair wax.
Aluminum is a much lighter metal than tin, so the aluminum jar is much easier to transport. Also, aluminum cans are eco-friendly and can be recycled once it is no longer needed. The aluminum container can be either screw-top or snap with a tight-fitting lid that helps to keep contents safe.
What Are Metal Tin Containers Used For?
Metal tin containers are a versatile and affordable packaging option for various products. Here are some common uses for tin containers: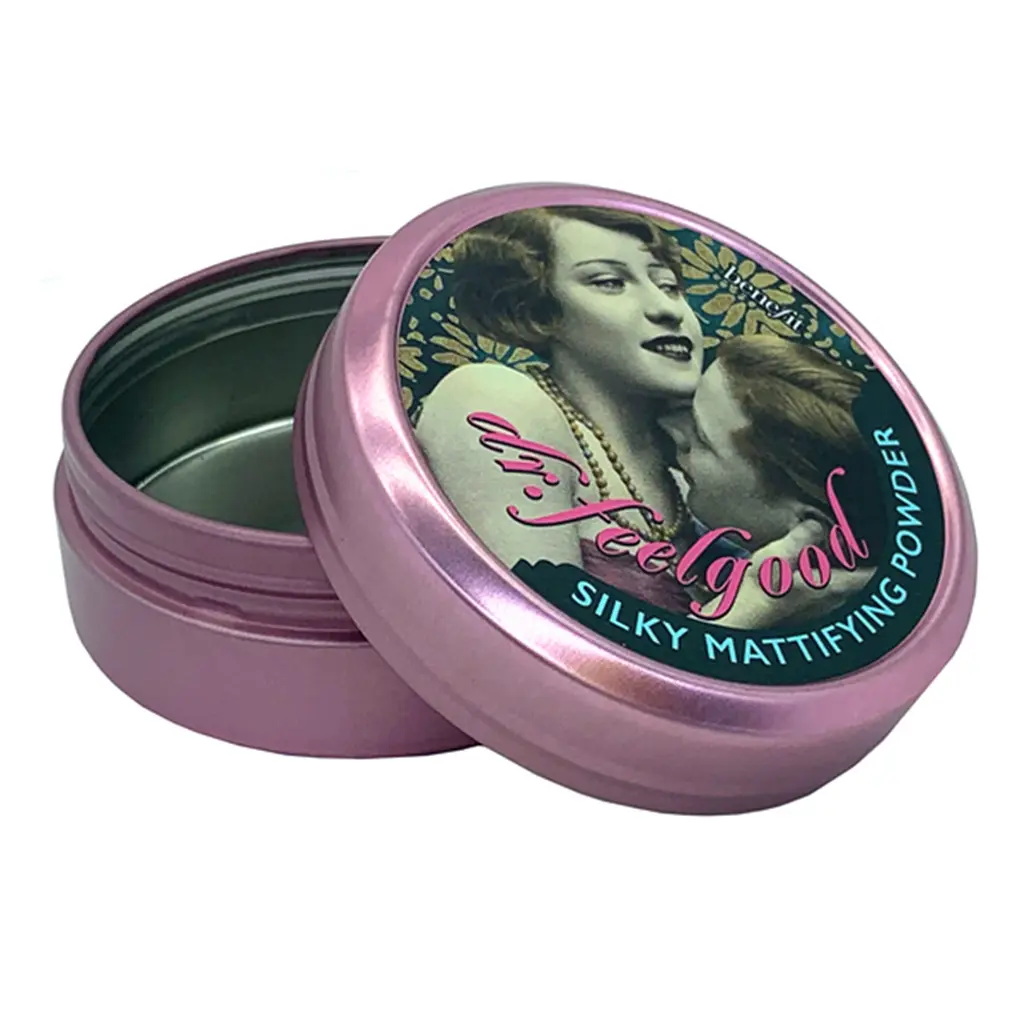 Cosmetic Tin Containers Wholesale
Cosmetic tin containers are metal tins specifically designed for holding and storing cosmetic products, such as creams, balms, powder, and salves. 
Cosmetic tin containers come in various sizes, colors, and designs, making them an attractive and functional addition to any bathroom or makeup bag. 
Their leak-proof design helps to prevent any spills or leaks during transportation, ensuring that the contents stay safe and secure. The durability and resistance to damage of cosmetic tin containers also make them a long-lasting and reliable choice for holding cosmetic products. 
With the increasing demand for eco-friendly and sustainable packaging options, cosmetic tin containers are becoming an increasingly popular choice for cosmetic brands and consumers alike.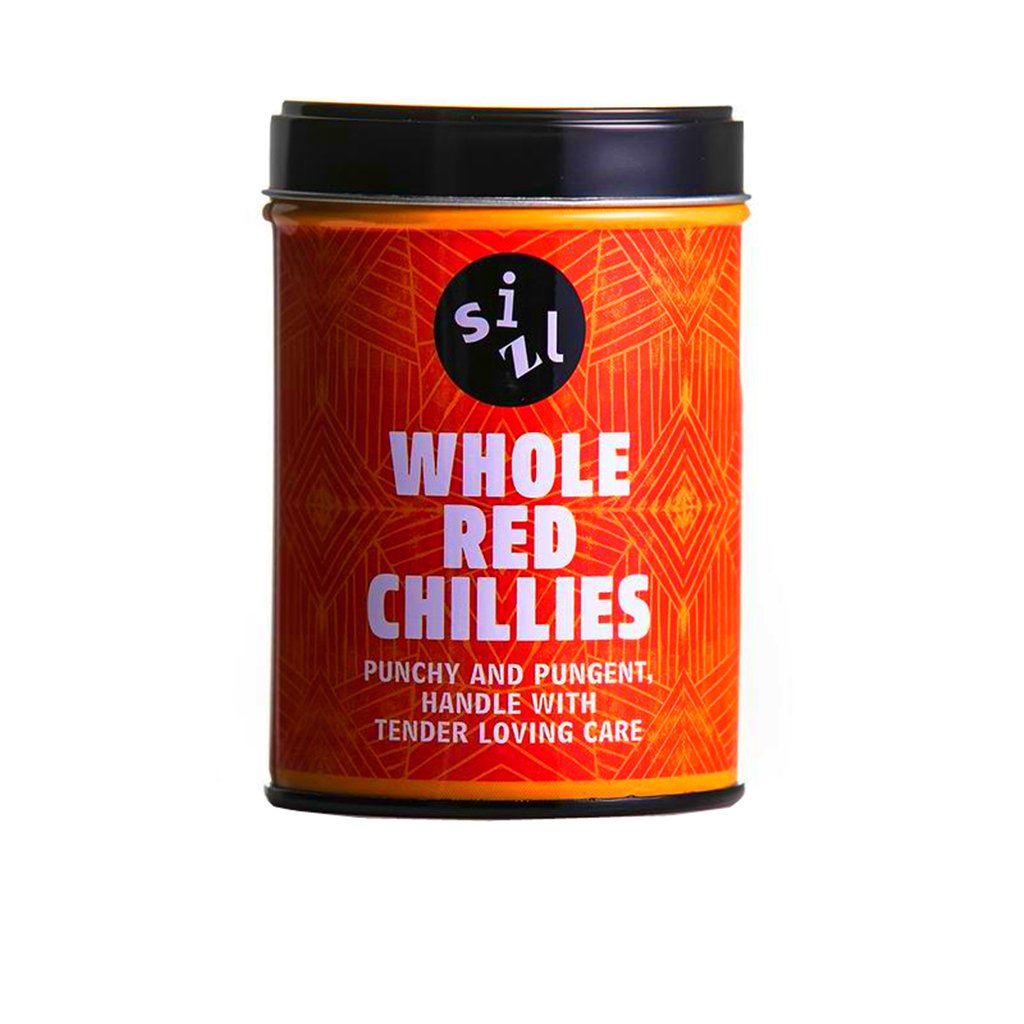 Spice tins are small tin containers used for storing and organizing spices, herbs, and other small kitchen ingredients. 
Spice tins come in various sizes, colors, and designs, making them an attractive and functional addition to any kitchen. They are often stackable and come with tight-fitting lids to keep the contents fresh and free from moisture and light. 
The leak-proof design of spice tins helps to prevent any spills or leaks during storage and transportation, making them a convenient and mess-free option for organizing spices and other kitchen ingredients. 
With the increasing demand for eco-friendly and sustainable packaging options, spice tins are becoming an increasingly popular choice for both commercial and personal use.
The Global Candy market was valued at USD 64,198.9 million in 2021 and is expected to reach USD 81,296.0 million by 2027. People are eating more candies than ever. As eco-friendly packaging, candy tins are perfect storage containers for sweets, chocolate, breath mints, or candies.
Tinshine is a large-scale candy tin box factory and has received many international candy brands' approval, such as Mars, Mondelez, Nestlé, Lindt, and other confectionery brands.
Enhance your brand and improve shelf impact with our custom candy tins. These tins are perfect for cookies, candy, nuts, chocolates, toffee, and much more, and can be customized in different shapes, sizes, and designs to fit your brand and make a statement!
The candle market is very competitive. Candle brands want to appeal to both environmentally conscious-and quality-conscious consumers. Some candle brands want packaging that meets requirements for durability and resealability. The answer proved to be tin containers.
Yankee Candle, one of the leading premium candle brands in the world, was the first company to use tin containers in the candle industry.
Candle tins keep your product safe. Seamless Tins are formed into shape by a single piece of tinplate, there is no seam to protect the candle wax from leaking. Also, tins are solid and crack-resistant containers.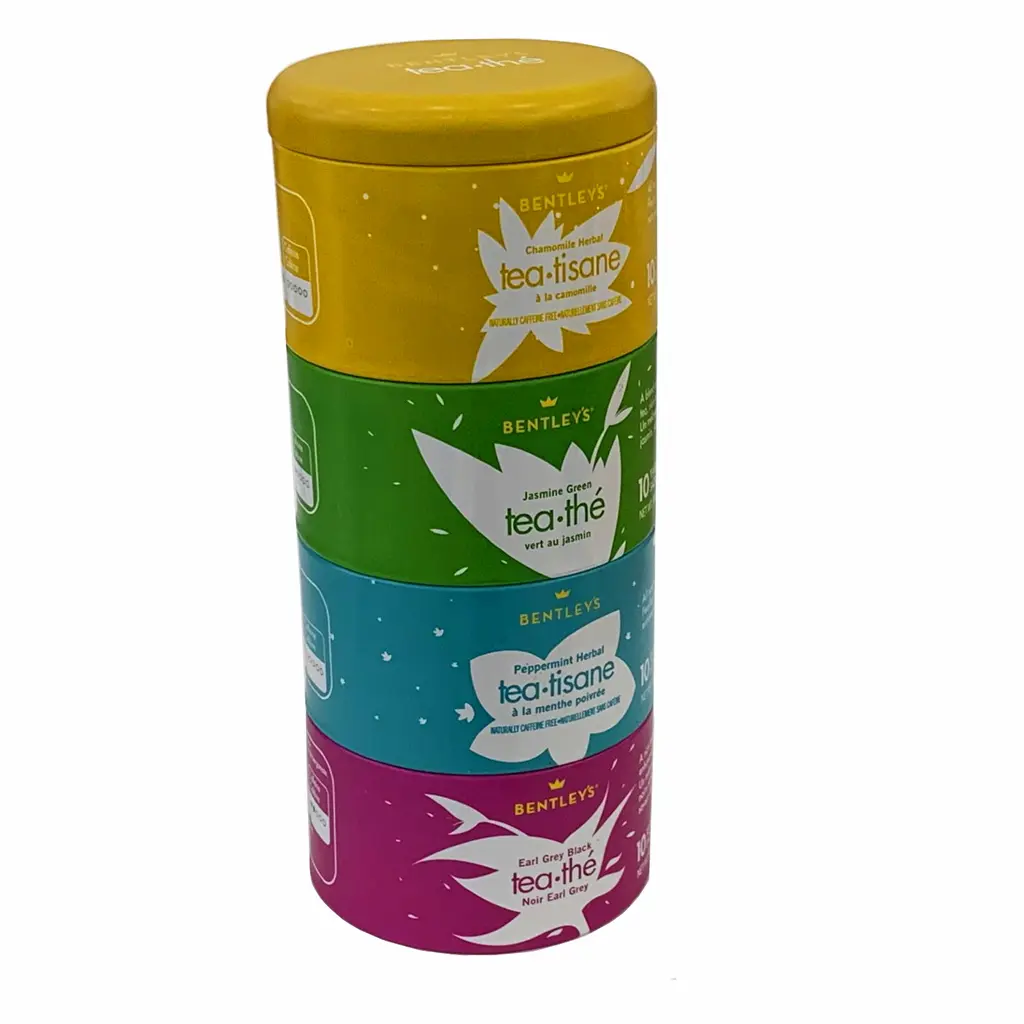 We can find many tin containers in the tea market. Top 20 tea brands in the world, more than half of brands are using tin packaging, mainly including:
Davids Tea tins
Twinnings English tea tins
Vahdam
Fortnum & Mason
TWG Tea tins
The Republic of Tea tins
Harney & Sons Hot Cinnamon Spice Tea tins
Choosing The Right Lid For Your Tin Container
When you are looking for tin containers that you need. You may concern about what kind of lid will be suitable for your products. Tin containers have many different types of lids. The most common type is the standard screw top lid, a metal tin with a screw on top that can be tightened or loosened. There are also child-resistant lids, which have a special design that makes it difficult for children to open them.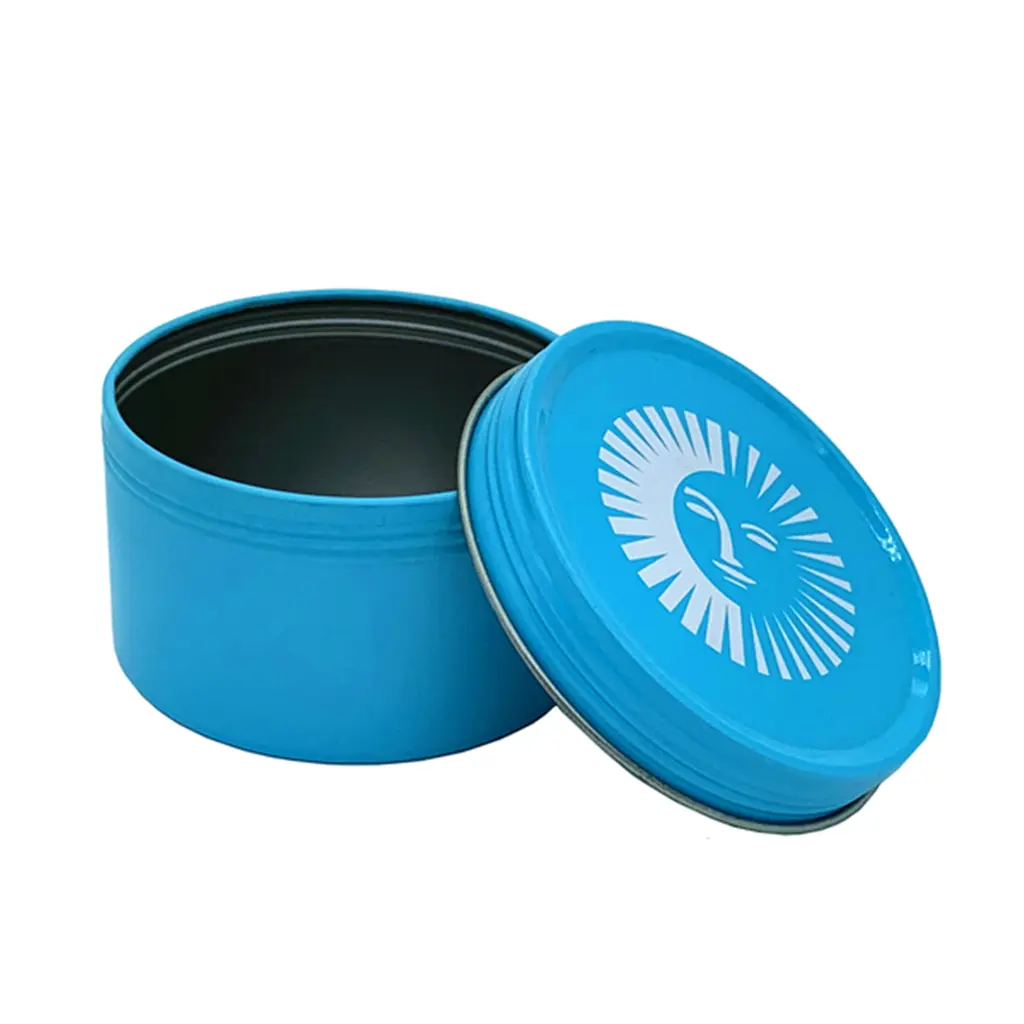 Screw-top lids are the most common and widely used lids for metal tins. The screw lid provides a tight and secure seal that prevents oxygen from entering the tin containers and spoiling the contents. Another benefit of using an aluminum twist lid is that it is lightweight and easy to transport. This makes it ideal for taking on the go, whether going on a hike or heading to the gym. 
Screw-top lids can only be used on round tin containers. Round tin containers with screw-top lids are perfect for cosmetics, creams, lip balms, scented candles, spices, and home decor.
We manufacture screw-top tin containers with a variety of tin sizes from 1 oz. to 16 oz, existing tin molds with custom options include printing as well as embossing.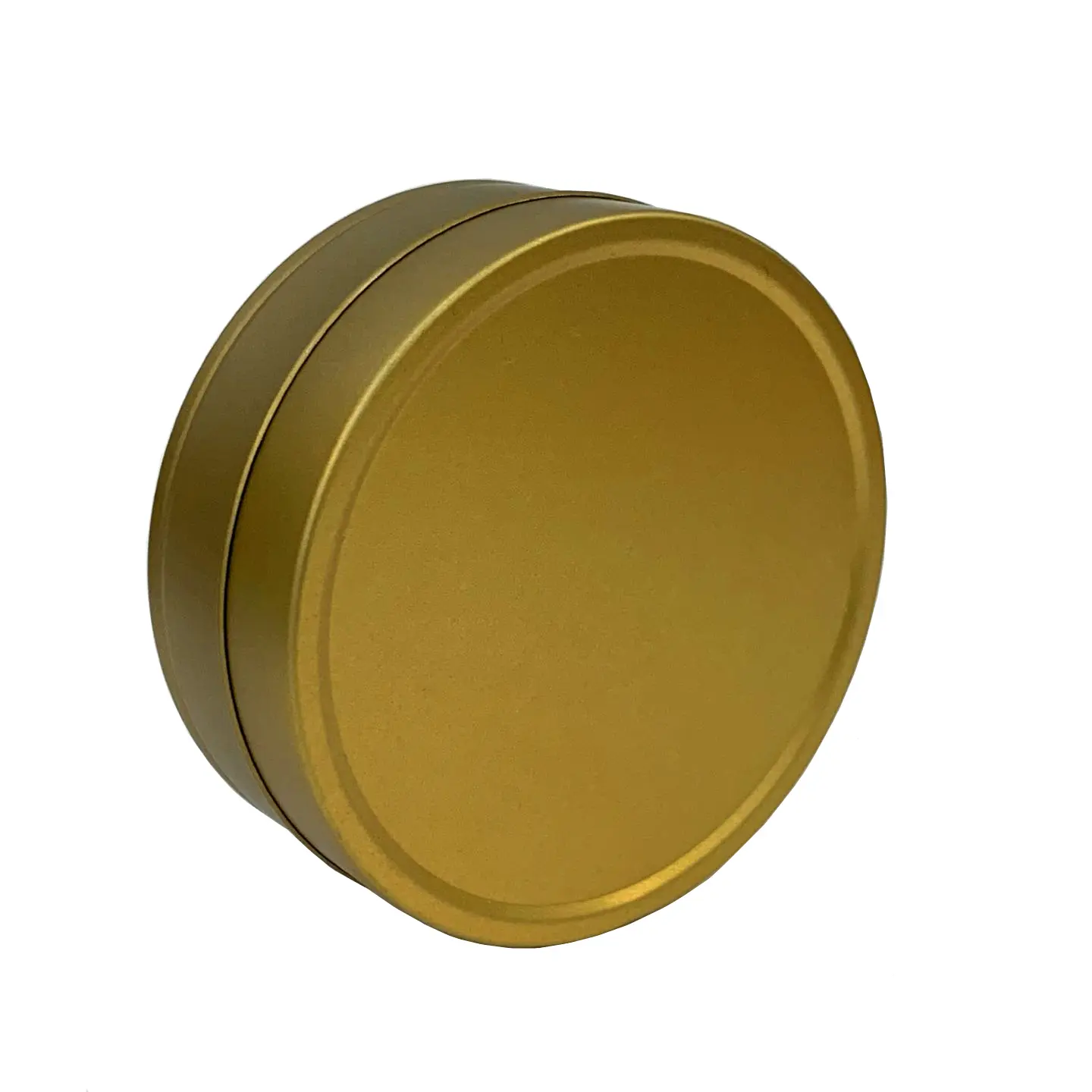 Compared with a top screw lid, tin containers with slip lids are much easy to open and close, with a simple lift of the cover. This design is not only effortless to use but also allows for the container to be refilled and reused numerous times.
The great thing about slipcovers is that they can be equipped with an EPE liner and they can be used on any tin container, no matter their shape or volume.
slipcover tins are ideal for tea, candles, mints, nuts, lip balm, and more. We have tiny tin container features from 1 oz, 2 oz, 4 oz, 6 oz, 8 oz, and 16 oz capacities, these seamless tins are food-grade and BPA-free for storing a dab of cosmetics or balm. The seamless design protects against leaks and contamination, and rolled edges provide a handy grip for popping off the slipcover.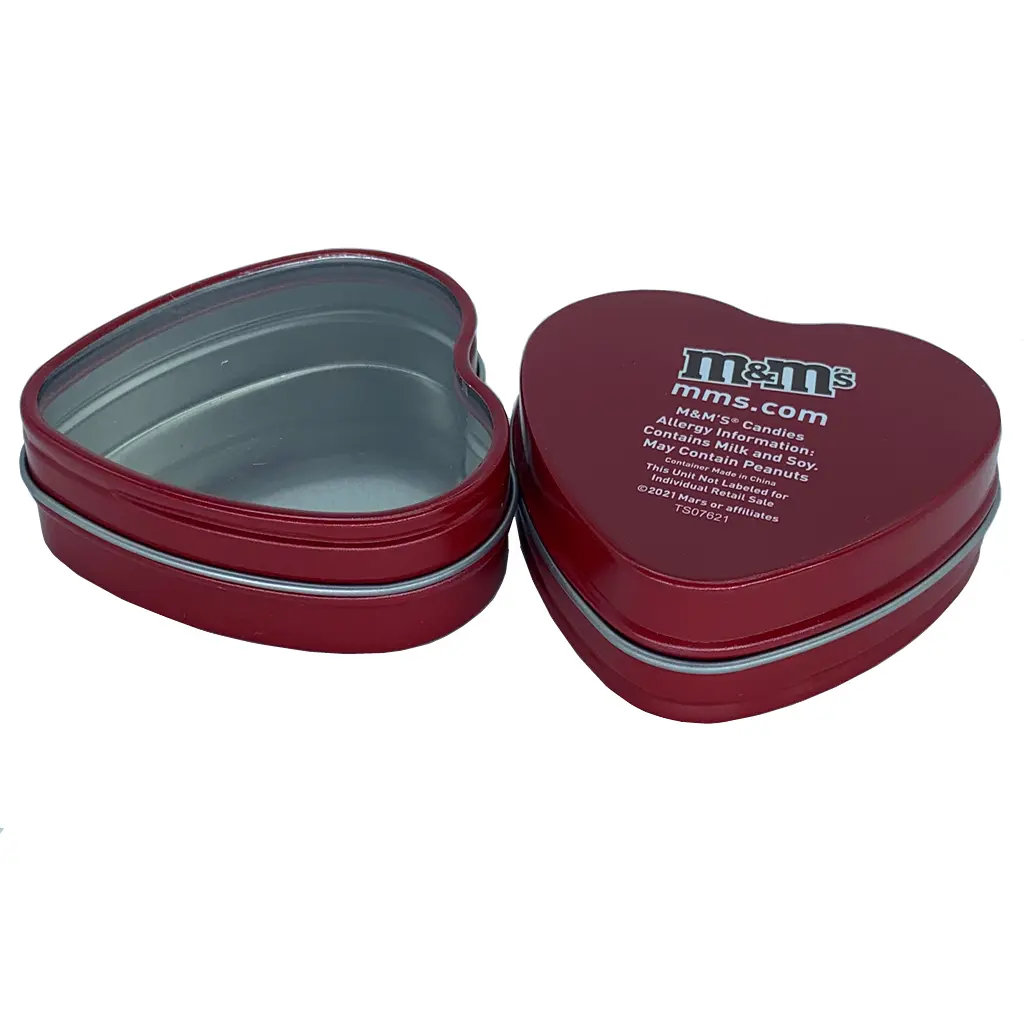 Window lid tin container offers a perfect way to display your colorful goods such as tea, spice, candy, makeup, candle, and more.
Window tins come with a see-through top, these tin cans allow the consumer to see your products through the window and grab a person's attention.
Window tin containers are not that often used for keeping liquids or fresh products. Instead, they are used to hold tiny objects, dried food, confectionery, or solid cosmetics such as wax.
Unlike our other tin cans and aluminum jars, window lid tins do not come with an EPE liner, which makes them less suitable for holding fresh products.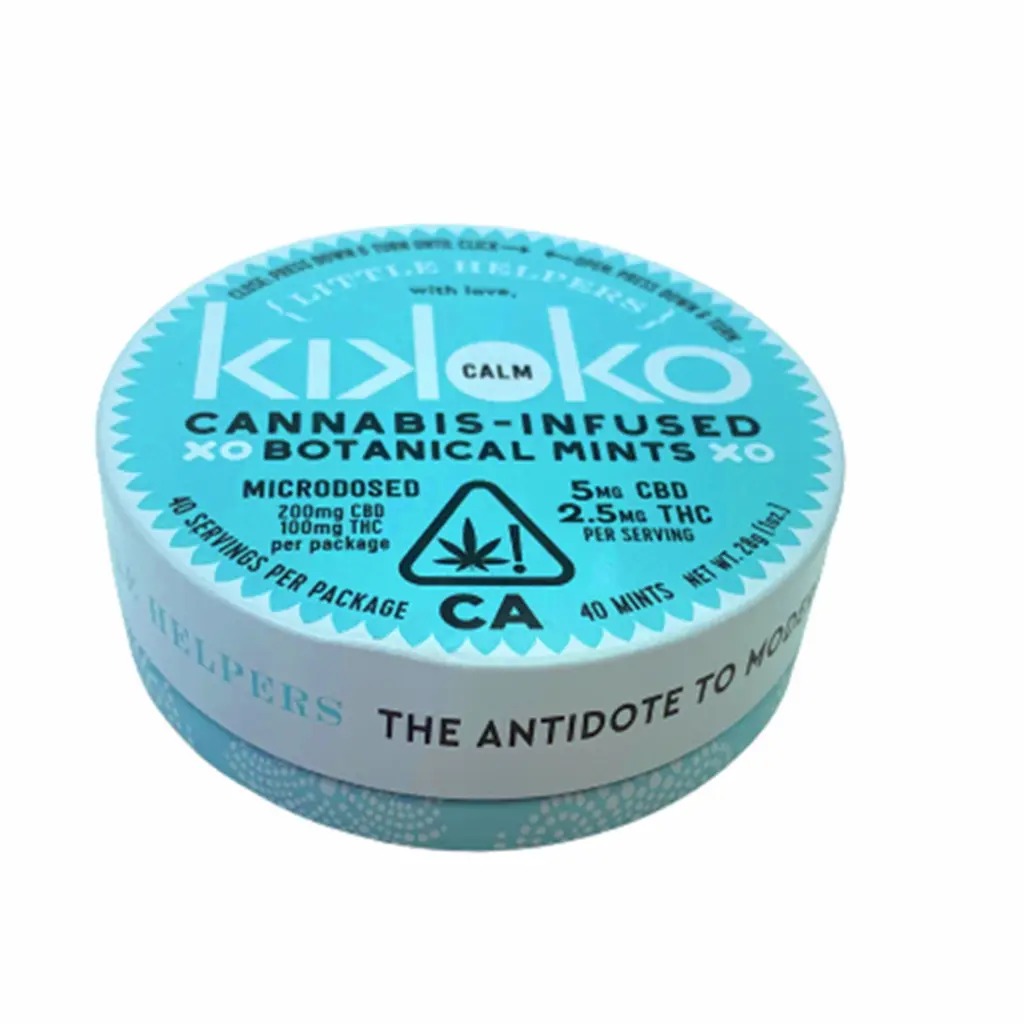 A child-resistant lid or CRC lid made of tinplate or aluminum is a special packaging lid for children under five years. The metal CRC lid aims to reduce the risk of poisoning in children via the ingestion of hazardous items.
CRC lids in metal tin containers are mainly used for Pharmaceuticals, CBD, Chemicals, cannabis-infused mints, and marijuana packaging.
All custom CR tin packaging, CR pre-roll tin boxes, and packaging materials are CPSIA and ASTM certified to meet child safety requirements.
Custom Child Resistant Tin Containers are always made in the seamless design to keep products fresh.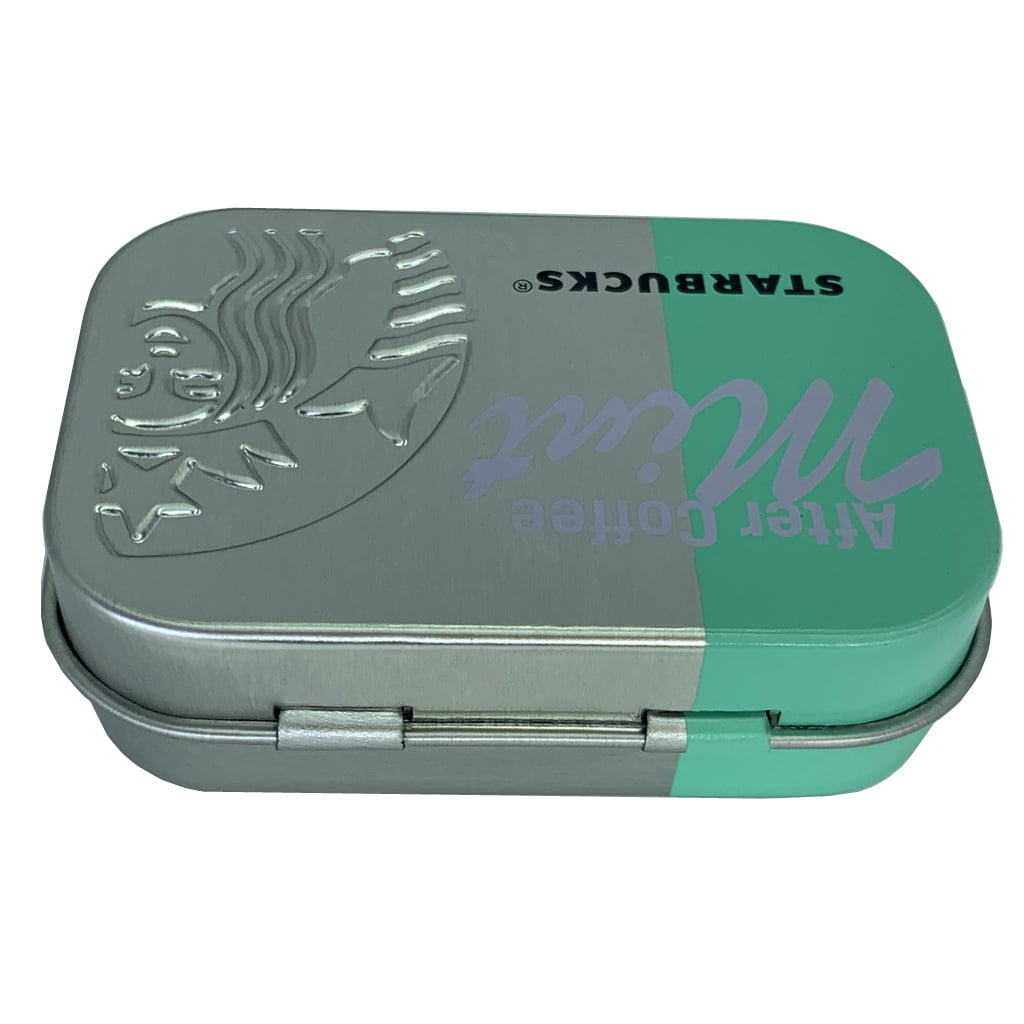 Unlike regular lift-up tins, hinged lid tins come equipped with small hinges that allow them to be opened like a door. This makes them easy to use and adds an extra layer of security to your items.
Hinged lids are always used for square and rectangular tins. These small rectangular tin containers with hinge lids are very popularly used for mint candy packaging. 
Hinged metal tins can be found in different sizes and they deliver an easy and convenient way to seal off your tins.
At Tinshine, we manufacture Wrigley's Eclipse mint tins with a hinged lid at a large volume of up to 3 million per day. Our tin factory can customize any hinged metal tins for you with short delivery terms, industry technology, and high quality for your branding.
It is clear that packaging plays a large role in the perceived value of a product. As a whole, the packaging industry really hasn't changed too much in the past years, compared to the constant innovations made in portable technology. With all the packaging and box choices available in today's market, it often becomes difficult to select the most appropriate packaging solution for your product. Let's take a look at tin containers as packaging options.
Why We Use Tin Containers?
Tin container is a lightweight and durable metal – Besides being cheap, these tin cans are manufactured in any shape and size in bulk, Additionally, they allow you to use different printing techniques to add beautiful colors for branding promotion. Here are 7 reasons why you should consider using tin containers over others.
1. Tin Containers Are Decorative
Metal tins can be printed with various colors and designs. You can customize the size and use various printing processes to offer designers a vast space for creativity. In a homogeneous packaging market, printed tin containers make it easier to attract customers' attention on the shelf and increase brand exposure.
2. Tin Containers Are Durable And Formable
Metal tins offer incredible flexibility in packaging due to their durability and strength features. Tin containers are a soft, malleable, and durable composition material that can be formed into any shape or size without cracking, enhancing shelf differentiation, quickly responding to changing market trends, and shorter the development cycle. Tinshine offers a wide variety of tin products to meet your brand packaging demand. Whether you're looking for custom-made tins or existing mold sizes, we have what it takes! We have Industry-leading Technology and Manufacturing equipment, We can design, build, and install tools to create any size or shape to meet the market demands.
3. Tin Containers Are Lightweight
Tin can is one of the lightest metals available in the market. These tin boxes are easy to transport, store and recycle; therefore, consumers prefer them over other boxes. The portability of the tin container is also highly convenient for consumers to carry the product.
4. Tin Containers Are Recyclable And Environmentally Friendly Packaging Options
Tin containers offer one of the most sustainable and environmentally friendly packaging options. Metal tin containers are 100% recyclable, without experiencing loss in quality. Studies have shown that around 60% of all tins in circulation contain recycled metals. Recycling such packaging can save the global economy billions of dollars per year. This makes them the most sustainable form of packaging on virtually any measure. Metal tins offer an affordable, safe, and sustainable way to promote your company and to pack your product.
5. Tin Containers Are Flexible packaging boxes
Tin containers with lids can be commonly used in many different industries. Thanks to their airtight, resistance to rusting, and no seam design, metal tin often function to pack food products, and makeup products or store wax lights. These tins are food-safe and protect products from moisture, oxygen, and other environmental factors. They have furthermore been designed to take a hit and can handle internal pressure. This makes them highly flexible. 
6. Tin Containers Are Food Safe
Tin is an efficient and safe packaging material that meets international safety standards. Also, we are using inner coating with FDA and EU-approved varnishes. They can contact food directly. Secondly, at Tinshine, we always have safety concerns when forming tinplate into shape. There is no sharp edge to make tin packaging boxes dangerous for children using under age 5.  
7. Tin Container Looks Luxury
High-end cosmetic and personal care products are often expensive. The metallic luster on the tin surface is the top reason to make tin packaging premium and luxurious. Combined with enormous print options and then decorated with Precise Embossing that makes the tin surface metal gradient and eye-catching. So metal tin is an ideal material to communicate a sense of luxury and value to consumers.
Is It Safe To Use Tin Containers? Do Tin Cans Have BPA?
Bisphenol A (BPA) is a chemical term that we often come across in the packaging industry, yet its significance may not be widely known. BPA is a chemical substance that is used to produce certain types of plastics and resins, making it one of the most extensively manufactured chemicals worldwide. You can find BPA in items such as plastic bottles, jars, containers, and jugs as well as other everyday goods like toiletries, household electronics, CDs, and thermal paper.

For tin cans, BPA is particularly relevant because its resin coating helps protect the contents inside, extending the tin can's lifespan.
Although Bisphenol A brings along an abundance of useful industrial applications, the use of this chemical is raising concerns among food and cosmetic branding. The main reason behind this lies in the fact that it is commonly believed that these plastics and resins can dissolve and affect the package content. Once mixed with the content, it may enter the human body when it is consumed resulting in possible health issues. This chemical is more commonly found in plastic food boxes, jars, and bottles, and also be found in tin containers. Especially the larger models that are used to pack food often contain BPA coatings. Luckily,

many tin factories are nowadays offering BPA-free tin cans. 



At Tinshine, the tinplate we use is an efficient and safe packaging material that meets international safety standards. Also, we are using inner coating with FDA, BPA-free, and EU-approved varnishes. They can contact food directly. Secondly, at Tinshine, we always have safety concerns when forming tinplate into shape. There is no sharp edge to make tin packaging boxes dangerous for children using under age 5. 
Tin Vs. Plastic Vs. Aluminum Vs. Glass
1. Tin Containers Vs. Plastic Containers
When people mention plastics, they will think of white pollution. Plastics can also be recycled, but the process of recycling plastics is more complicated than steel. According to data from the Environmental Protection Agency, the estimated recycling of steel packaging in 2018 was 1.6 million tons, or 73.8 % of generation. while EPA also estimated the recycling of plastic products based on data published annually by the American Chemistry Council, as well as additional industry data. The recycling rate of plastic containers and packaging was only 13.6 percent in 2018. 
Tin Containers don't contain bisphenol A (BPA), which is found in plastic containers.

Metal tin is more expensive than plastic, but the high price means people are more willing to recycle steel.

Environmental impact: While both materials have environmental impacts, tin containers may have a greater impact due to the mining and processing of the metal. Plastic containers, on the other hand, are made from petroleum and can take hundreds of years to decompose.
2. Tin Containers Vs. Aluminum Jars
Tin containers and aluminum jars are both commonly used for storage, and while they share some similarities, there are also some key differences between them:
Material: Tin containers are typically made of steel coated with a thin layer of tin, while aluminum jars are made entirely of aluminum.

Durability: Aluminum jars are generally more durable than tin containers, as aluminum is more resistant to corrosion and can withstand higher temperatures. Tin containers are also prone to rust if the tin coating is scratched or damaged.
Weight: Aluminum jars are lighter than tin containers, making them easier to transport and handle.
Recyclability: Both tin containers and aluminum jars are recyclable, with the main difference being that aluminum can be recycled indefinitely without losing quality, while tin may degrade over time.
Cost: Aluminum jars are generally more expensive than tin containers, as aluminum is a more expensive material.
Environmental impact: Both tin containers and aluminum jars have a relatively low environmental impact, as both are recyclable and have a low carbon footprint.
Use For: The aluminum container is more suitable for cream packaging if you need containers for long-term contact and is permissible in terms of legislation – Decree No. 38/2001 Coll. However, Tin containers are more suitable for food packaging.
3. Tin Containers Vs. Glass Containers
The glass containers are fragile and heavy (5 times more than metal tin cans based on the same capacity). It means more transportation costs for manufacturers. And for consumers, it means inconvenience to carry.
Meanwhile, facilities for recycling glass are more difficult to obtain than metal tins. Many local authorities refuse to collect or recycle glass together with other garbage. Because if different colors of glass are mixed during transportation, it is difficult to reuse. The energy of producing glass is 1/10 of virgin steel, but twice that of recycled tin.
Custom Tin Containers – Printing Techniques
Now that you have chosen the design, size, shape, and closing mechanism of your custom tin container, it's time to move on to the most important step: choosing the printing technique. At Tinshine, we offer 5 different printing techniques that allow you to fully customize your tin to meet your branding requirements.
1. 
Adhesive Stickers 
By far the

cheapest way

to customize your tin is by adding an adhesive sticker. These labels are easy to produce and apply onto any type of tin container with low MOQ and short manufacture time. Although they are extremely cheap to apply, they give your custom tins a beautiful and premium finish if you are just starting the business and wanna test the marketing.

2. 
Silk-Screen Printing
Screen printing is used for screen and ink to transfer into an image onto a tin can. Each color may be used for each screen. If a design with multiple colors, it will need multiple screens. So the printing costs will be higher than offset printing if the order quantity is above 5000 pcs. Screen printing is the perfect option for seamless tins to

avoid the image and text being deformed on tin containers

. because it allows for precise placement of the image or text on the can without distorting the shape of the image and text. This makes it a great option for brands and manufacturers who want to ensure that their product packaging looks professional and visually appealing. 

3. 

Offset Metal Lithography

Offset printing is the main printing method

for tin containers.

At Tinshine, our printing factory uses metal lithography machines to do mass printing. Metal Lithography is a cutting-edge technology that revolutionizes the tin packaging industry. With its advanced four-color, six-color, and nice-color printing lines, it allows tin manufacturers to significantly increase their output per labor hour and deliver high-quality products to customers in just four to five weeks.


For

bulk orders

we recommend choosing offset printing for tin containers and aluminum jars because it is:

 
Cost-effective – the more you print, the lower the price per unit
Time efficient – offset printing can print large quantities at a faster rate
Quality Guarantee – offset printing offers exceptional color fidelity that is easier to maintain
4. Embossing
Embossing is a great way to make your artwork, such as your logo, stand out on the tin packaging. This technique can be particularly effective for creating a premium, high-end look. Embossed tins are guaranteed to turn your plain metal container into a true piece of art. Embossing is a technique that is popular for the use of

limited edition tins

that often end up on people's selves as collectibles. They will help you to differentiate yourself by giving your empty cans an extra "pop".
5. Metallic effect
The metallic luster on the tin surface is the top reason to make tin packaging premium and luxurious. Combined with enormous print options and then decorated with Precise Embossing that makes the tin surface metal gradient and eye-catching. So metal tin is an ideal material to communicate a sense of luxury and value to consumers.