Spice Tins Wholesale Supplier
Spices can easily lose their flavor and taste when exposed to light, moisture, and air. To make sure your customers can enjoy the spices for a long time, choose the right type of packaging that keeps them fresh and safe.
Metal tins are ideal storage containers for sensitive foods such as spices and herbs,  which not only preserve freshness but also presents an opportunity for attractive branding. Compared to many other types of packaging, tin boxes protect these valuable products for a long time. 
Advantages of Using Spice Tins
Spice tins, or metal spice containers, provide an excellent solution for spice storage, protecting spices from light, air, and moisture that could negatively impact their flavor and shelf life.

Metal tin is

durable, lightweight, and food safe.

Metal tin is easy to take, moisture-proof, and

a great alternative to glass spice jars

By opting for airtight spice containers, spice manufacturers can ensure that their products remain fresh and potent for extended periods.

Spice tins also help keep things organized

. By using custom labels or custom printing, it becomes easy to differentiate between various spices, ensuring a clutter-free and efficient workspace.
spice tins offer

custom printing and branding opportunities

, allowing companies to create a distinctive visual identity that will put your spices ahead of the Competition
Tinshine is An Experienced Spice Tin Manufacturer
With a diverse portfolio of colors, designs, and sizes, Tinshine creates wholesale spice tins in various volume capacities. Utilizing top-grade, BPA-free, and recyclable tinplate, Tinshine ensures a safe and reliable product. Furthermore, the metal spice containers feature
food-grade coatings
, guaranteeing their suitability for housing edible products.
Tinshine offers an extensive array of customization options, including
double-lidded spice tins, twist-off lug caps, transparent clear lids, plastic lids, magnetic bases
, and more.
If you require a bulk order of spice tins, Tinshine can accommodate your packaging needs. If you require a spice container not listed above, feel free to request custom spice tins and contact Tinshine promptly. Our team is eager to assist and collaborate with you in finding the perfect spice tin solution.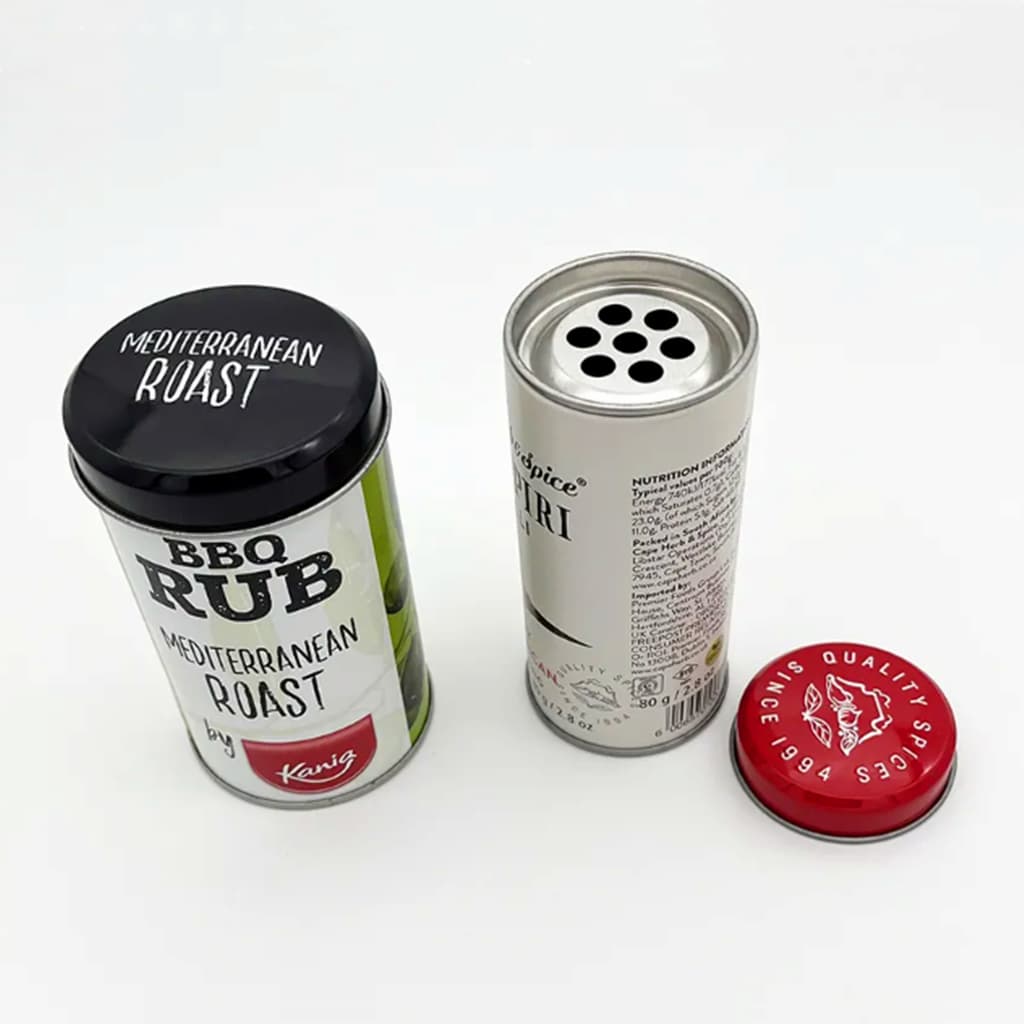 Tinshine is a Top 10 custom spice tin Manufacturers in China. We strive to provide high-quality spice tins and containers alternatives that are suitable for a variety of spice business needs.
Our spice tin containers are custom made, from sizes to shapes and lids. We supply all sizes of spice tins, from 1 oz to 2, 3, 4, 6 oz, and more sizes.
To guarantee that we provide high quality metal spice containers, we produce all of our spice tins using the best tinplate materials. We have been in the tin box manufacturing industry for over 16 years that enables us to be your spice containers wholesale partner.
If you're searching for high-quality and custom spice tins in bulk, you can count on Tinshine.
Custom pepper tins with clear window lids are fully customizable, allowing you to choose the size, shape, color printing, airtight lids, and design that best suits your brand and product. We also offer waterproof PVC stickers or normal stickers to enabling you to distinguish and organize different peppers.
The seamless construction of custom pepper tins ensures the safety and freshness of your product, while the clear window lid allows customers to see the pepper inside, increasing product visibility and encouraging sales.
Choose our customizable custom pepper tins with clear window lids and stickers, and elevate your brand and product presentation with a packaging solution that is both practical and visually appealing.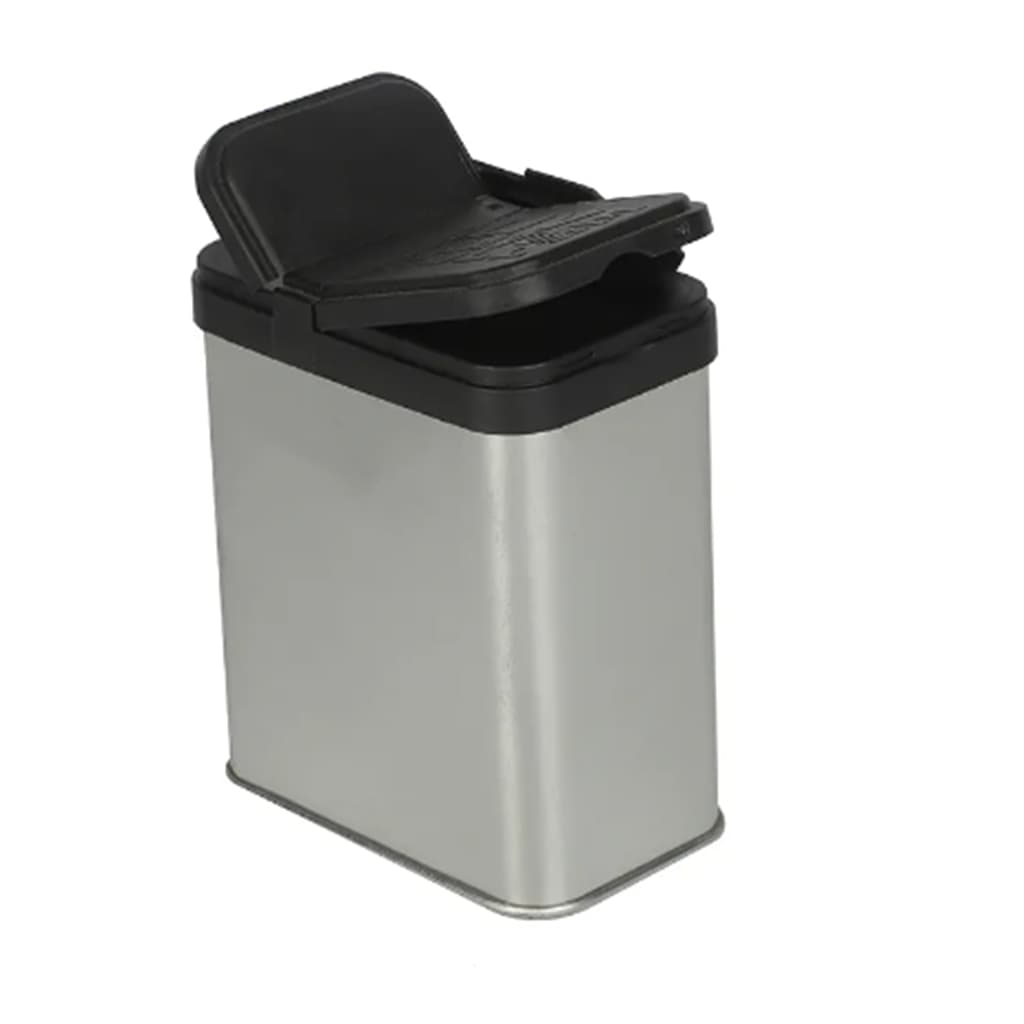 This Vintage spice tins provide a safe and direct packing solution for your favorite spices. The plastic lid offers two convenient dispensing options – a sifter for controlled shaking and a pour spout for easy pouring, ensuring a seamless culinary experience.
At Tinshine, we take pride in our cutting-edge facilities, boasting over 10 automated production lines dedicated to creating a diverse range of spice tins. Our commitment to excellence extends to our dust-free, fully automated manufacturing and packaging workshop, designed specifically for spice tin production.
This advanced setup not only guarantees each spice tin's exceptional cleanliness and food safety but also significantly enhances our production efficiency and the consistent quality of our premium spice tins.
Spice Storage Tins Wholesale
When it comes to storing spices properly, light is not the only factor to consider. It is critical to keep all of your spices in an airtight container to keep them fresh for as long as possible.
Metal tins are great airtight container to storage spice and keep your spice fresh for as long as possible,  as tin box with both the lid and the liner and have dark condition, which can avoid light exposure and temperature control.
Looking for a versatile and practical solution to your spice storage needs? Our wholesale spice storage tins come with both plastic and metal lids, providing dual dispensing options for your convenience.
Magnetic spice tins are designed with a magnet at the base, allowing for easy attachment to metal surfaces. The versatile metal lids offer two dispensing options: a large pouring hole for generous seasoning and multiple smaller holes for a controlled sprinkle. Simplify your spice storage and organization with these convenient magnetic spice tins.
At our factory, we prioritize the safety and well-being of our customers, and that's why we use inks and lacquers that meet the FDA and European food packaging requirements for our spice tins.
Our printing inks and lacquers have been tested and certified by third-party labs such as SGS and Intertek.
Round Spice Tins Wholesale
Our round spice tins are available in a range of sizes, from 1 oz to 15 oz, making them perfect for storing a variety of fresh herbs and dried spices. These tins feature airtight double lids, ensuring your herbs and spices stay fresh for a longer.
We have a dust-free workshop to manufacture round spice tins in bulk and have a BRC food packaging certificate, and FSSC 22000 to meet FDA standards. Our commitment to quality guarantees that each spice tins we create is safe, reliable, recyclable, and a true testament to our dedication to customer satisfaction.
For more development of any custom shapes and sizes of metal spice tins, you are welcome to contact us 24 hours a day.
Rectangular Spice Tins Wholesale
Our food-grade rectangular spice tins feature airtight double lids that protect your spices from moisture, air, and light. Each tin is equipped with a well-treated metal shaker lid, allowing you to easily shake out your spices without any leakage or humidity issues during transit. The shaker lid features 7 holes for precise dispensing and even seasoning.
These stackable tins maximize kitchen space, ensuring a well-organized and accessible spice collection. Available in various sizes, colors, and designs. 
Our rectangular spice tins can be customized to suit your unique style and preferences. Whether you're a business owner looking for affordable packaging solutions or a home cook seeking a functional yet aesthetically pleasing storage option.
Metal Spice Jars Lid Manufacturer
When it comes to preserving the freshness and flavor of your spices, having the right lid is essential. As a reliable metal spice jar lid manufacturer, we take pride in delivering top-quality, custom-designed lids tailored to suit your needs.
Our expertise in manufacturing durable and airtight metal lids ensures your spices remain protected from moisture, air, and light. Available in various sizes and styles, our metal lids can be customized with printing or emboss to match your spice jars or containers, creating a cohesive and stylish appearance.
our commitment to sustainability means we use eco-friendly materials and practices, so you can feel good about choosing our metal spice jar lids. Trust in our years of experience and innovative manufacturing techniques to provide you with the ultimate solution for your spice storage needs.
1. Why Spice Tins Are a Great Alternative to Glass Spice Jars
When it comes to spice storage, glass jars have long been the go-to choice. But have you considered spice tins as a fantastic alternative? Below, we'll explore why spice tins are a great alternative to glass spice jars for your kitchen.
Durability: Unlike glass, spice tins won't shatter when dropped. Made of sturdy metal, these containers can withstand daily use and the occasional fumble without cracking or breaking.

Light protection: Exposure to light can degrade spices over time, impacting their taste and potency. Spice tins often provide better light protection, keeping your seasonings fresher for longer.

Customization: Spice tins offer endless design possibilities! Personalize with labels, colors, and patterns to create a unique storage solution that reflects your individual style.

Space-saving: With their stackable design, spice tins make the most of your kitchen's limited real estate. Their slim profile fits neatly on shelves or in drawers, making organization a breeze.

Eco-friendliness: Spice tins are reusable, recyclable, and more environmentally friendly than their glass counterparts. By choosing tins, you're making a positive impact on the planet.
In summary, spice tins provide a durable, light-protective, customizable, space-saving, and eco-friendly alternative to traditional glass spice jars. Make the switch today, and experience the difference for yourself!
2. Which Container is Best For Spices?
The best container for spices depends on your individual preferences, storage requirements, and kitchen aesthetics. However, some general factors to consider when choosing a spice container include:
Airtight seal: Containers with airtight seals help preserve the freshness and potency of spices by preventing exposure to air, moisture, and contaminants.

Glass jars, tins with tight-fitting lids

, and certain plastic containers often provide good airtight seals.
Light protection: Spices can degrade when exposed to light, so it's essential to store them in a dark or opaque container.

Metal spice tins and ceramic containers

provide excellent light protection, while glass jars can be stored in a dark cabinet or covered with a label or sleeve to block out light.
Durability: Consider containers made from durable materials that can withstand daily use and potential accidents.

Metal tins and high-quality plastic containers

are generally more durable than glass or ceramic options.
Space efficiency: Depending on your kitchen storage situation, choose containers that maximize available space.

Stackable tins, magnetic containers

, and spice racks with built-in containers are practical options for space-saving storage.
Eco-friendliness: If you're environmentally conscious, opt for containers made from sustainable, recyclable, or reusable materials, such as

glass or metal tin

.
Aesthetics: Choose containers that complement your kitchen's design and color scheme.

Glass jars, ceramic containers, and customizable metal tins

offer various styles to suit your preferences.
Here is a comparison table for the various spice container options:
Spice Container
Pros
Cons
Glass Jars

– Airtight seal

– Visually appealing

– Reusable and recyclable

– Fragile

– Allows light exposure

– May take up more space

Spice Tins

– Durable and lightweight

– Light protection

– Stackable and customizable

– Eco-friendly

– Some designs not airtight

– Contents may not be easily visible

Plastic Containers

– Lightweight and affordable

– Often airtight

– Variety of sizes and shapes

– May not provide light protection

– Less eco-friendly

– Less durable and may absorb flavors

Ceramic Containers

– Light protection

– Airtight options

– Traditional and rustic appearance

– Fragile and prone to chipping

– Heavier

– Limited visibility of contents

Magnetic Containers

– Space-saving

– Attaches to metal surfaces

– Variety of materials

– May not offer light protection

– Limited size options

– May require additional investment

Spice Racks with Built-in Containers

– Cohesive and organized

– Tailored to kitchen spaces

– Variety of materials

– More expensive

– Limited customization

– May require more space for installation
3. 

What is The Best Way To Store Spices?
To best store spices, follow these guidelines:
Keep them in airtight, opaque or dark-colored, and non-reactive containers.

Store containers in a cool, dark, and dry place, away from direct sunlight and heat sources.

Label or custom print the tin containers with the name of the spice and the date of purchase or opening.

Purchase spices in small quantities and use them within 6 months to 1 year for ground spices and up to 2 years for whole spices to ensure freshness.
4. Let Tinshine Metal Spice Tins Keep Your Products Fresh
For over 18 years, Tinshine has been at the forefront of the custom tin packaging industry, proudly serving both major corporations and smaller businesses alike. As the market leader in creating metal tins for the food and cosmetic sectors, our success is built upon a solid foundation of expertise and passion.
Tinshine offers an extensive range of premium food-grade spice tins, ensuring the optimal storage solution for your spices. We understand the importance of maintaining the integrity of your spices, which is why our tin containers are designed with chemical inertness and unreactivity in mind. Our spice tins are completely BPA-free and non-toxic, guaranteeing safe storage for your treasured flavors.
Our diverse selection of custom spice tins come in various sizes and styles to suit your preferences. Equipped with airtight covers, caps, and closures, these tin containers keep your herbs and spices fresher for longer. Experience the Tinshine difference and elevate your spice storage today.