Tinshine is a leading global cosmetic tin supplier and manufacturer in China, offering an impressive variety of high-quality decorative tins for makeup, lipstick, perfume, personal care, fragrance, and color cosmetics packaging. If you are looking for cosmetic tin packaging,  you must read this page, which contains all kinds of tin solutions for cosmetics.
One of the best benefits of using cosmetic tins is that the material is both luxurious and recyclable.  For brand companies interested in taking steps toward going green, this is one way to start.  80% of consumers say they are more willing to buy beauty and personal care products in eco-friendly packaging, so choosing metal tins can be a great way to market beauty products as being better for the environment.
The second benefit is tin is a highly customizable packaging choice for high-end products. All tin boxes can be customized in terms of shape, size, emboss, and surface print to your specifications, because tin material can be manipulated easily to create a variety of boxes. The Colors can be changed and printed with CMYK mixed with Pantone colors referring to the client's design. We also offer many printing finishes like gloss, matte, UV spot, crackle, etc. Tin shapes can be created with eye-catching emboss or deboss to be a high-end look by using metal as the packaging material.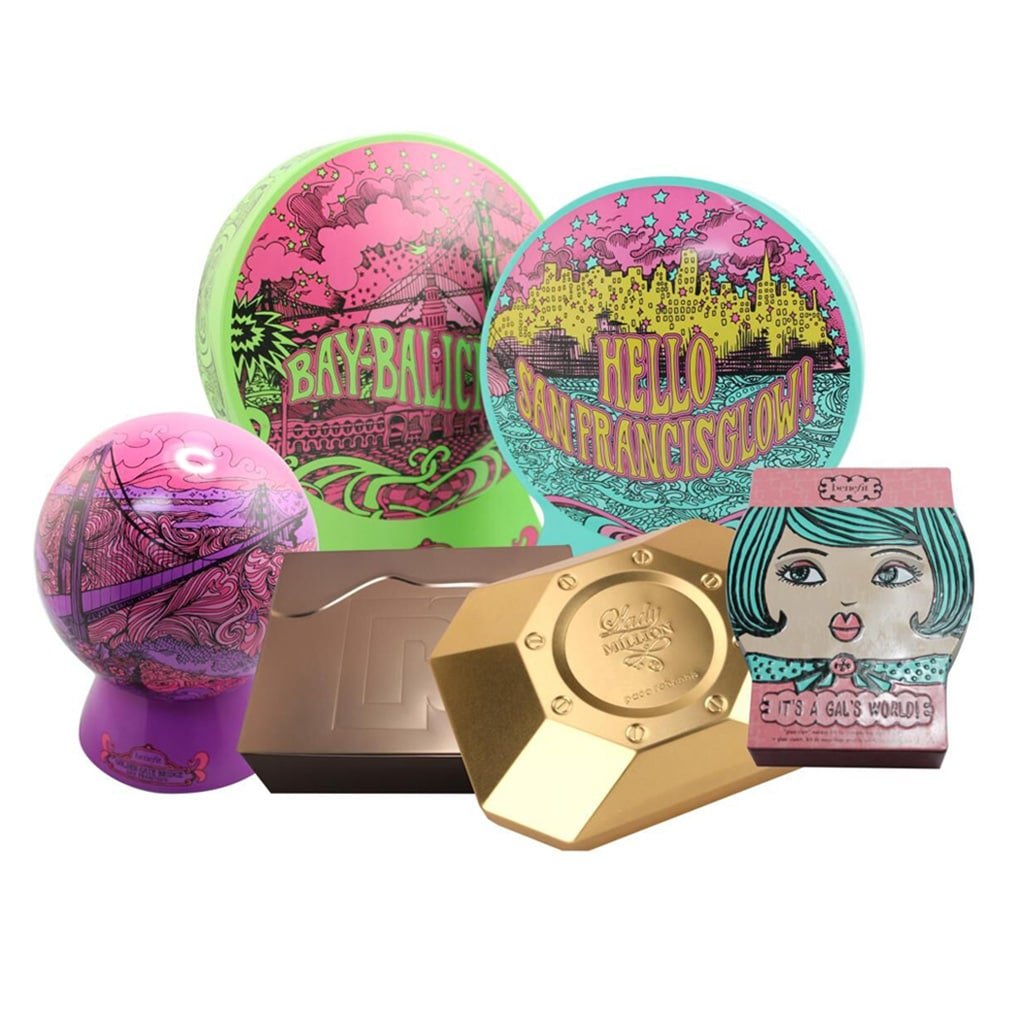 Cosmetic Tin Packaging Manufacturer
Many luxury brands in cosmetic packaging have already used metal tins for makeup to infuse products with the beauty and prestige of metallic gradients. Because of its visual appeal, good tactile touch, and sustainable benefits.
The metallic gradient design on the tin surface is the top reason to make tin packaging premium, combined with enormous print options, then decorated with creative emboss that makes the tin surface unique and eye-catching. That's why so many brands use tin boxes as their secondary packaging.
The unique shape is another intense consideration. Tin is a soft and durable composition material that can be formed into any shape or size per your preferences, enhancing shelf differentiation, quickly responding to changing market trends, and shorter the development cycle.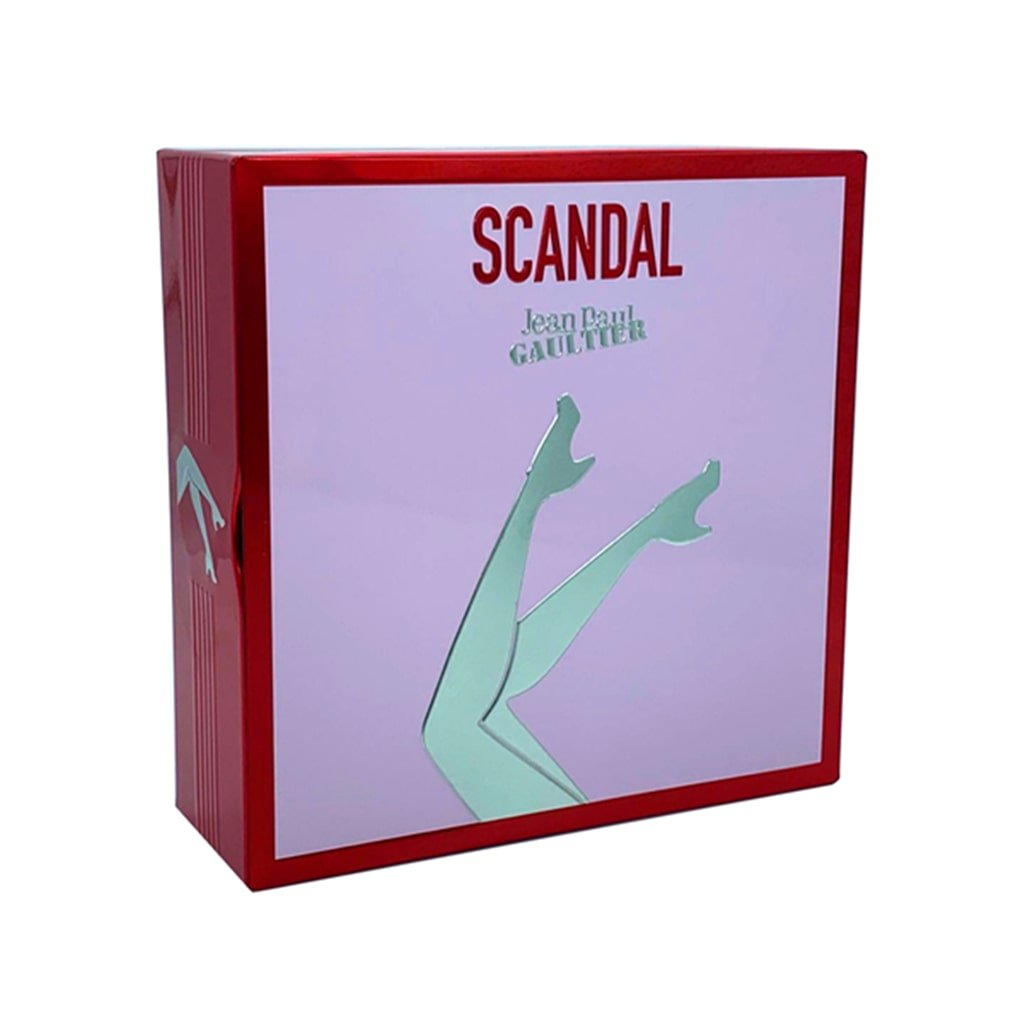 Custom Perfume Tin Boxes Wholesale
Why do many fragrance brands prefer tin packaging? Because metallic finishes look luxurious, the tinplate has a pleasing metallic luster, which allows us to create a consistent metallic gradient effect to feature a high-end perfume packaging box.
Metal tins have excellent paintability and printability. The printing is skillfully finished using CMYK or mixed with Pantone colors that enhance the box surface with a vintage look and feel.
Tinshine has specialized in producing distinctive and high-quality tin packaging boxes for the Perfume industry since 2007. We have Industry-leading Technology and Manufacturing equipment. We can design, build and install tools to create any size or shape tins to meet the market demands.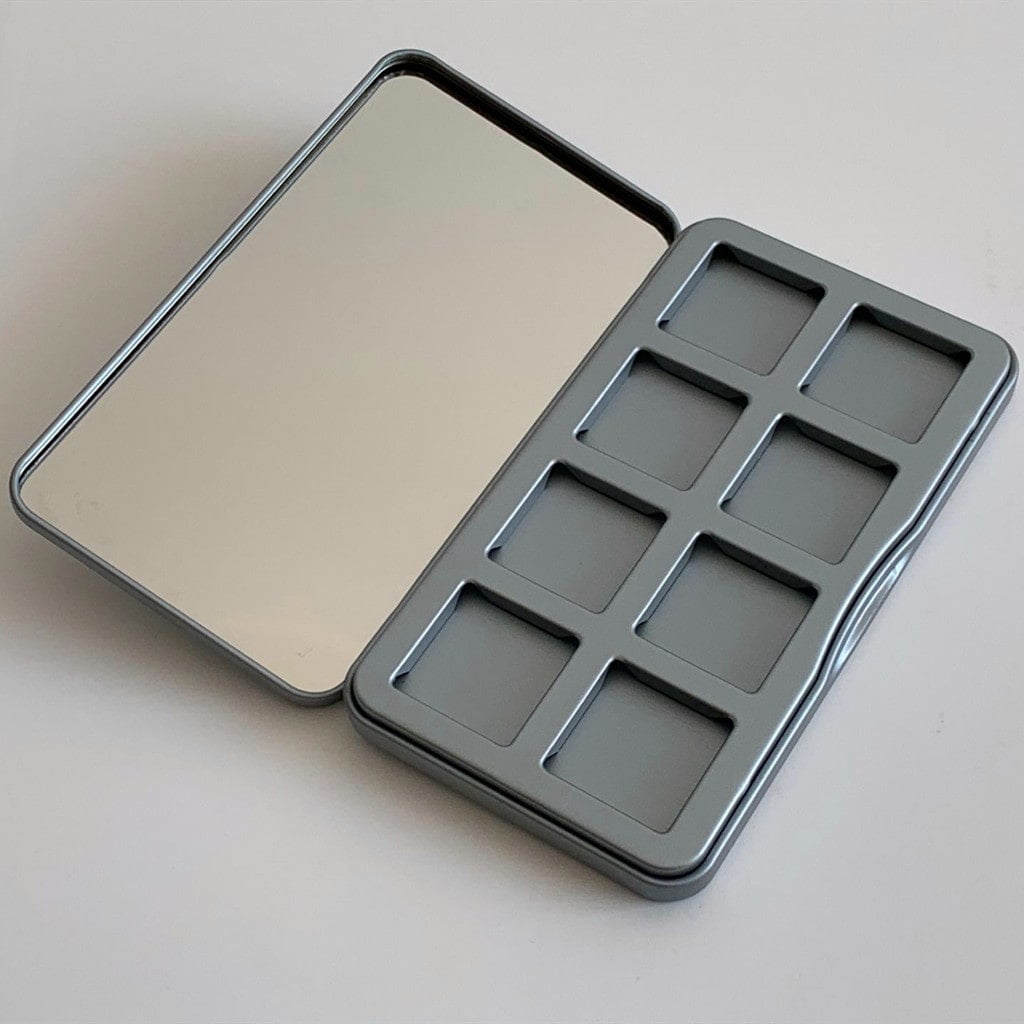 Tin Eyeshadow Palette Packaging
The tin eyeshadow palette packaging is typically made of tin, which is a durable and lightweight metal that is well-suited for packaging cosmetics. The tin eyeshadow palette is often rectangular or square and has a hinged lid that opens and closes to reveal the eyeshadow palette inside. The tin eyeshadow palette may also have a mirror or other features, such as dividers or brush holders, to make it more convenient and functional. The tin eyeshadow palette is often decorated with attractive designs or finishes, such as glitter, foil, or embossing, to make it more appealing and attractive to consumers.   At Tinshine, we have existing tin palette sizes as below:
1 pan size is 68x68x14mmH
3 pan size is 102x62x13mmH
6 pan size is 127x93x17.5mmH
8 pan size is 129x72x15mmH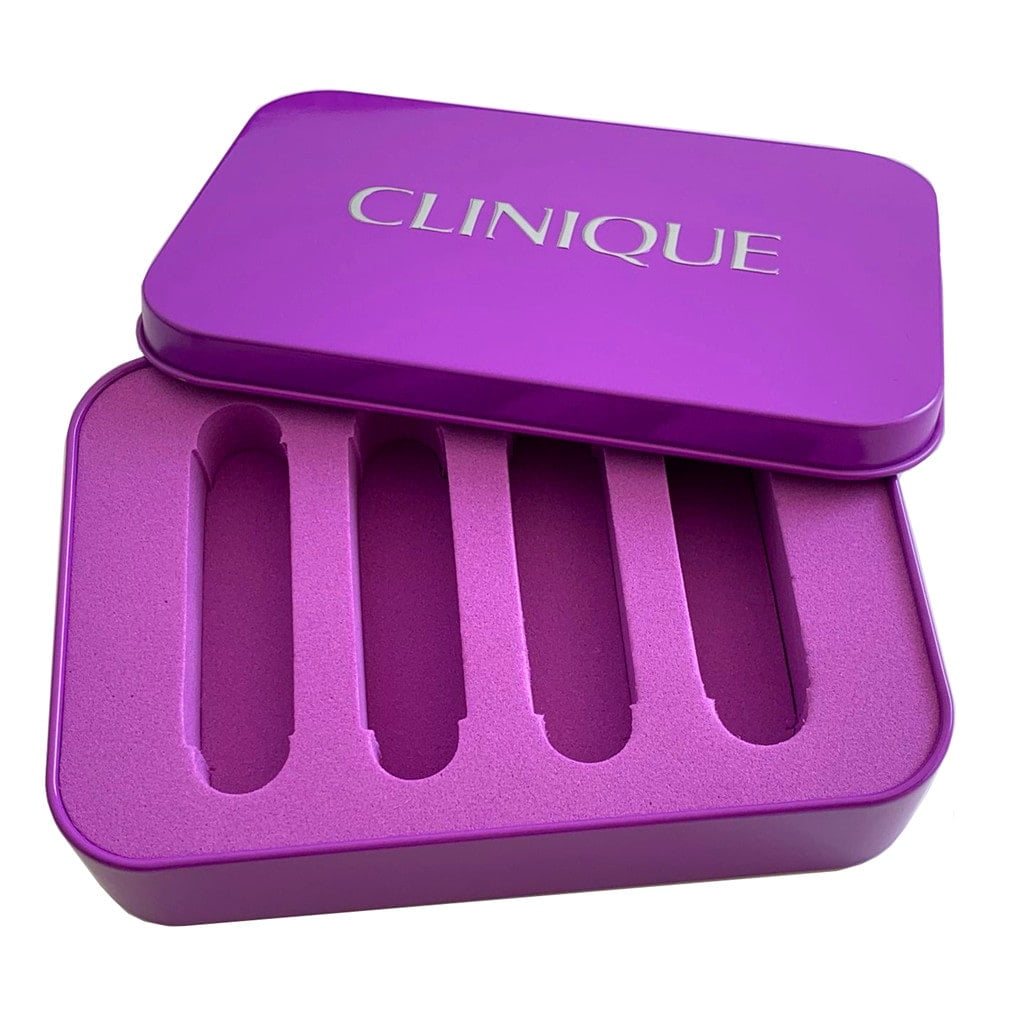 Luxury Lipstick Tin Boxes
A stronger first impression with custom lipstick boxes will make your products stand out. Tin boxes with soft-touch, glossy, or matte coatings can help to create luxurious packaging. Metal tins are very creative and have many advantages for lipstick packaging, mainly considering the temperatures and light that can have a big impact on lipstick. The tin box is lightweight and solid with a dark condition that provides a well-stored environment for lipstick products.
Luxury lipstick tin boxes are often used by cosmetics companies to package their high-end lipstick products. They can be used to display the lipstick in a retail setting, or to provide a protective and attractive storage option for consumers who purchase the product.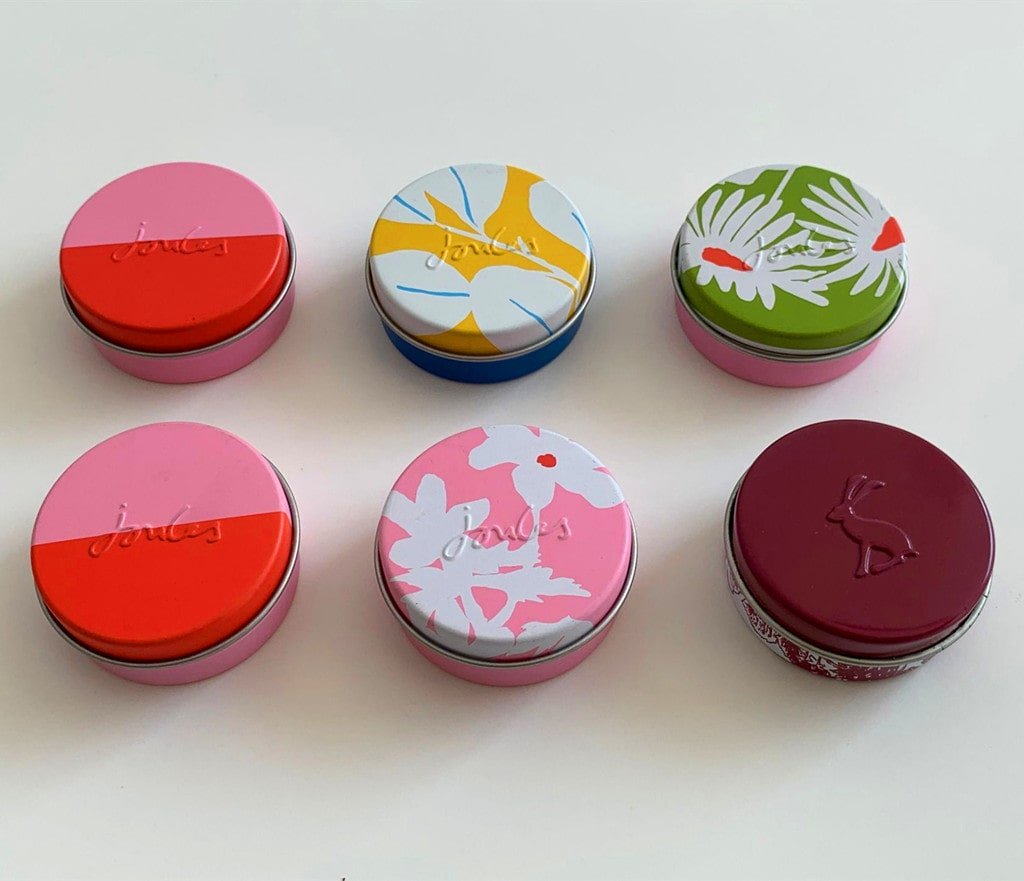 Seamless tins are the perfect packaging solution for lip balm, cosmetics, beard balm, salves, and more. They are formed into shape by a single piece of tinplate. No seam to protect moist products from leaking out of the side, and metal tins have dark conditions to prevent the lip balm inside from light, heat, and moisture.
We manufacture lip balm tin containers with a variety of sizes, closures, and special features:
Seamless tin sizes from 0.25 oz. to 2 oz.
Small round tin with a flat lid, screw top, and window lid
Custom printing with decorative emboss
MOQ: 10,000 pcs
Makeup Powder Tin Containers
Makeup powder tin containers are small, decorative containers that are used to store and display makeup powder products, such as face powder, blush, and bronzer. They may be adorned with intricate designs, patterns, or embellishments, and may be made in a variety of shapes and sizes. Our refillable empty makeup tins can be easily personalized and customized with portable sizes.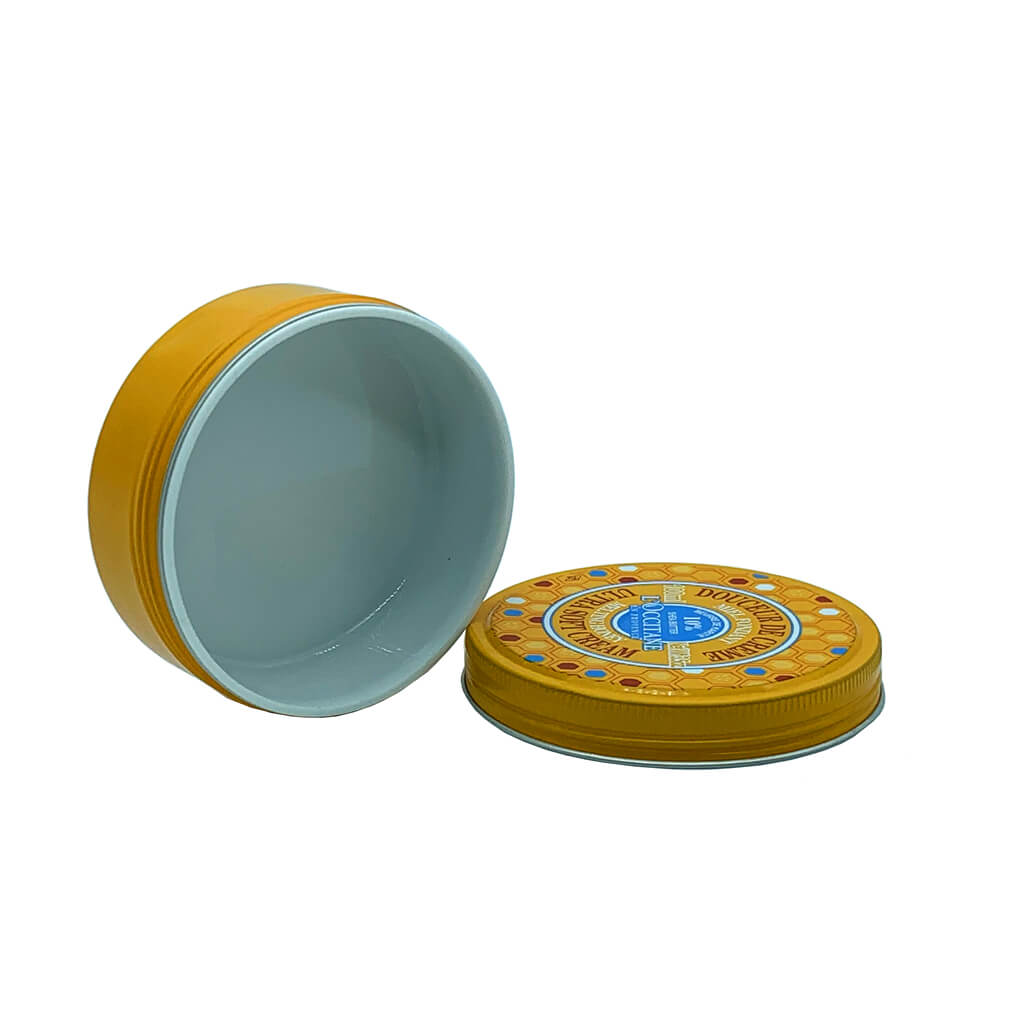 Aluminum Cosmetic Tins Wholesale
Aluminum tin is an ideal choice for storing a wide variety of items like lip balms, cosmetics, lotions, creams, salves, balms, and so much more. The screw lid is easy and convenient to open and close. With an EPE liner in the cover, it can prevent content leak out as well. We have custom tin sizes from 1 oz to 8oz and also accept customized sizes.
Why Use Metal Tins For Cosmetic Packaging?
There are so many sustainable packaging options for the cosmetic industry. It can be hard to determine which material is best for your secondary packaging. Tin is a lightweight and malleable metal. Here are 7 key benefits to choosing tin packaging with Tinshine: 
1. Metallic Reflectivity
Looks Luxury
High-end cosmetic and personal care products are often expensive. The metallic luster on the tin surface is the top reason to make tin packaging premium and luxurious. Combined with enormous print options and then decorated with Precise Embossing that makes the tin surface metal gradient and eye-catching. So metal tin is an ideal material to communicate a sense of luxury and value to consumers.
Then What Is Metallic Reflectivity?
Metallic reflectivity is the characteristic of metals that allows them to reflect light, giving them a shiny, polished appearance. This characteristic is often associated with luxury and high quality, as it gives metals a sleek, sophisticated look. Metallic reflectivity is achieved by the smooth, regular arrangement of atoms in the metal, which allows light to bounce off the surface of the metal in a uniform, consistent way. Different metals have different levels of reflectivity, with some metals, such as gold and silver, having a higher level of reflectivity than others, such as copper or zinc. This makes metallic reflectivity an important factor to consider when choosing metal tins for luxury products or packaging.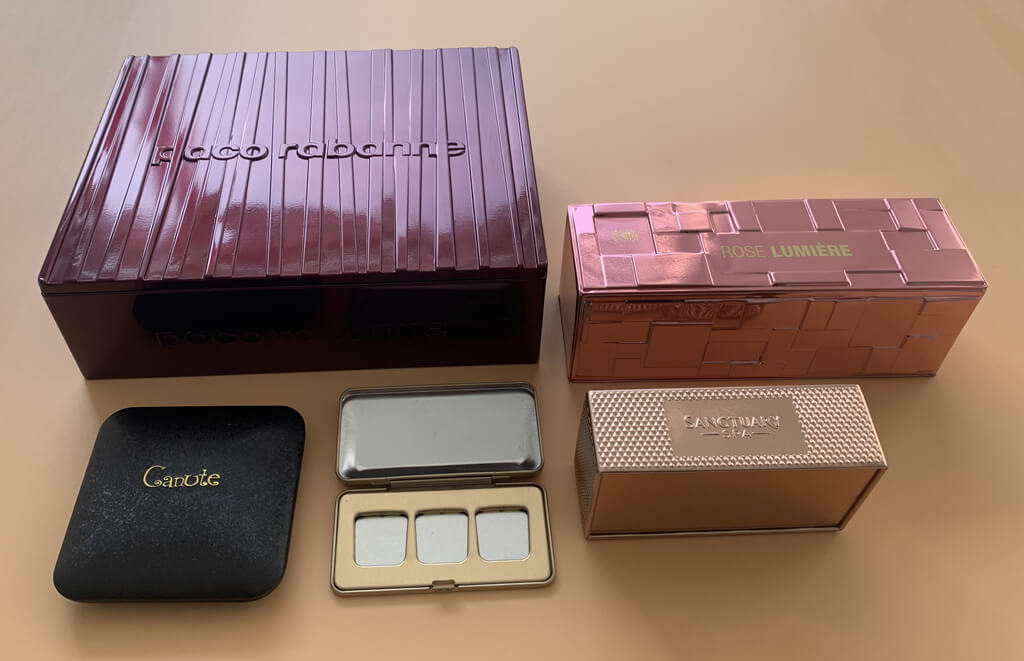 2. Metal Tin is 100% Sustainable Packaging
Metal tins can be 100% recycled without losing the quality look and feel of their packs. The inherent property of metal makes tins a better choice than other secondary packaging materials. Recycling represents the environment. Using cosmetic tin means contributing to environmental protection. The company wants to move towards sustainable packaging. Recycled tins can be an excellent idea.
3. Tin can be formed into Unique shape
Another strong consideration is the unique shape. The tin boxes are a soft, malleable, and durable composition material that can be formed into any shape or size without cracking, enhancing shelf differentiation, quickly responding to changing market trends, and shorter the development cycle. Tinshine offers a wide variety of tin products to meet your brand packaging demand. Whether you're looking for custom-made tins or existing mold sizes, we have what it takes! We have Industry-leading Technology and Manufacturing equipment, We can design, build, and install tools to create any size or shape tin to meet the market demands.
4. 
Reasonable Price
Compared to other metal finishes and the plating processes involved in packaging boxes, tin is significantly less expensive and has many printing finishes available on the tin plate with gloss, matte, UV spot, crackle, etc. We use automated production lines to manufacture Custom tins or stock tins in Bulk.  It can save lots of labor costs and shorter delivery terms with high quality.
5.  Custom Printing With 
Specialty Varnishes
At Tinshine, we have multiple tin sheets, printing ways, coatings, and extra options that can help your packaging stand out as premium. Make your cosmetic boxes look exquisite and expand your price range.
Offset printing is the main printing process for tin boxes. Tin is also suitable for silk screening, hot stamping, and powder paint to grab attention and make the sale. The following are the differences between these three printings:
| | | | | |
| --- | --- | --- | --- | --- |
| Printing Ways | Color | Gradient | Suitable for  | MOQ |
| Offset printing | <9 color / CMYK | Yes | entire tin  | 10,000 |
| Silk screening or Hot stamping | =>2 colors | Yes | logo or a small part of texts | 1,000 |
| Powder painting | 1 color | No |  entire tin | 10,000 |
6.  Food Safe
The tinplate is an efficient and safe packaging material that meets international safety standards. Also, we are using inner coating with FDA and EU-approved varnishes. They can contact food directly. Secondly, at Tinshine, we always have safety concerns when forming tinplate into shape. There is no sharp edge to make tin packaging boxes dangerous for children using under age 5. 
7.  Reuse 
Here are some ideas for how to reuse cosmetic tins:
You can reuse empty cosmetic tins to store items such as makeup brushes, cotton balls, or q-tips. You can also use it to store non-cosmetic items, such as jewelry, trinkets, or small toys.

You can reuse cosmetic tins to decorate your home. You can use the container to display small items, such as photos, knick-knacks, or figurines, or you can use it as part of a larger decorative arrangement.

You can reuse empty cosmetic tins to do a DIY project. You can use the tin to create a DIY project, such as a candle holder, a planter, or a storage box.
Tin Box Manufacturing Process
At Tinshine, we have two types of tin manufacturing processes; one is fully automatic production, and the other is semi-automatic production. The difference between them is below:
 Details
Semi-automatic
Fully automatic
Capacity
Small tins: 10K to 20K pcs per day 
Big tins: 2000 to 8000 pcs per day
Small tins: 20K to 40K pcs per day
Big tins: 4000 to 10,000 pcs per day

Safety

 

No

Automation minimizes workplace injuries
MOQ
5000 PCS
50000 pcs
Mold costs
3,000 to 5,000 USD
4,000 to 6,000 USD
We have invested millions in automated machinery and technologies that allow us to increase efficiency, shorten lead times, and minimize workplace injuries, and waste.
How To Customize Cosmetic Tins For Your Brand Promotion?
In the first step, you will have to describe the product's shape, size, and quantity. The purpose is mainly related to the existing mold and custom shape. We will use this information and our understanding of your needs to recommend. For example, if our existing box shape and size are close to your requirement,  then you can save a lot of time and mold costs for a new one. At Tinshine,  we have 2000+ existing tin molds for your choosing.  On the other hand, if need to create a custom shape tin,  we will create a 3D mock-up sample for your side to check the tin size and shape in 3 days, and it will enable you to see the natural effect and test it accordingly.
In the next step, we will provide you with a large variety of materials, finishes & extras options to guide you design the boxes. 
Tinplate sheets: 
There are three types of tinplate sheets to choose from: tin sheet, sandblast sheet, and laser film sheet to maximize and illustrate your brand packaging. The tinplate thickness is from 0.21mm, 0.22mm, 0.23mm, 0.25mm,0.28mm,0.3mm, to 0.35mm. The more thickness,  the stronger the tin box will be. See the below image show:

Varnish and Finish

 
Coating and varnish are the second steps to changing the look and feel of the printed box. The glossy and matt varnish can be combined with other options, such as metallic gold, embossing, or debossing, to make a truly unique tin box. Also, the varnish can increase the strength of the packaging and provide extra protection against scratches and abrasion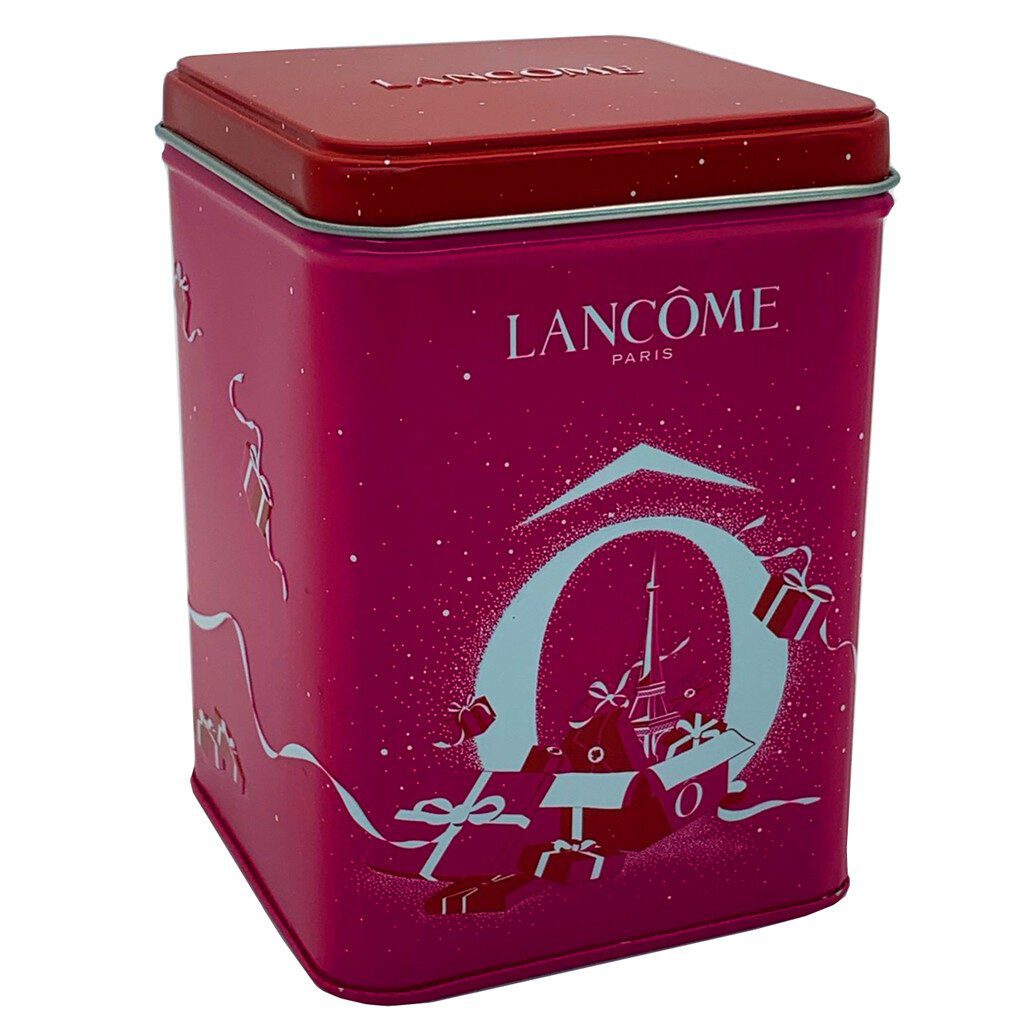 Tin sheets
Thin sandblast sheets
Thick sandblast sheets
Laser film sheets
Import tinplates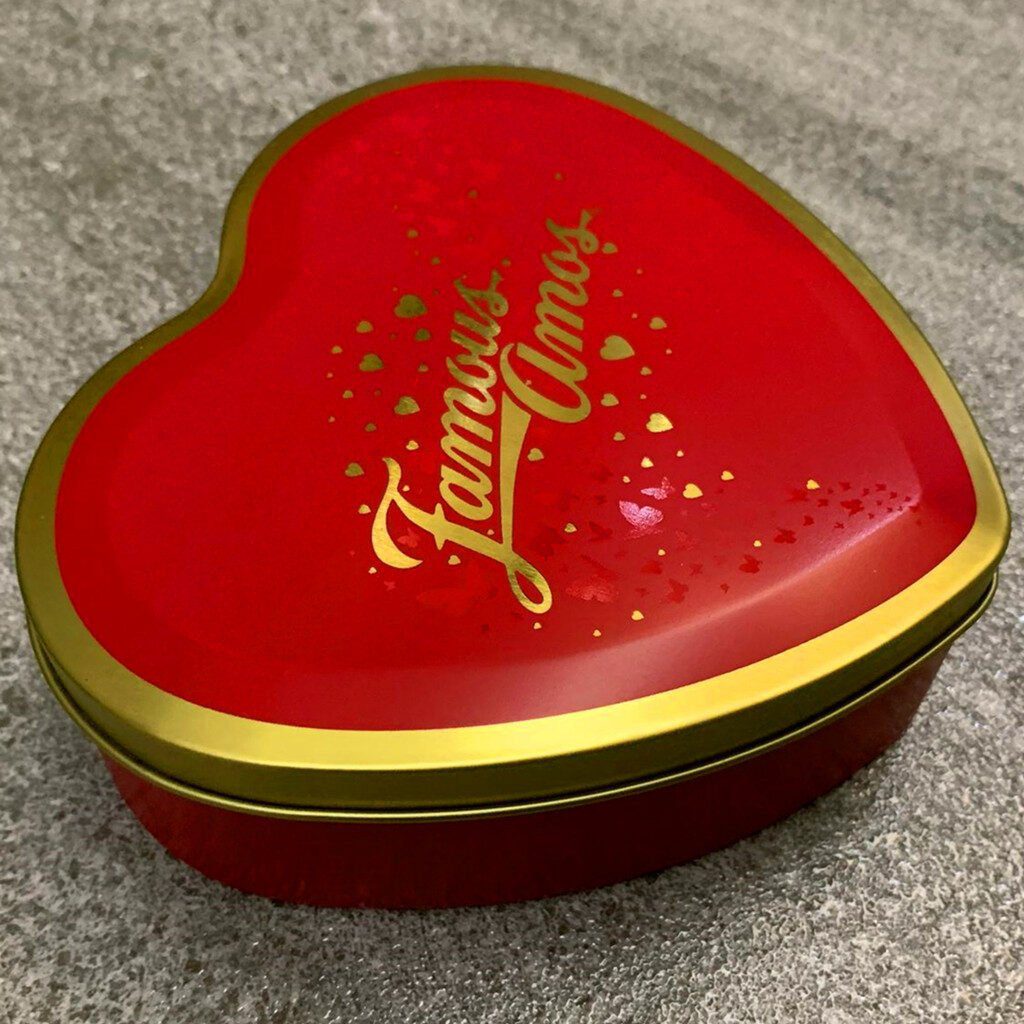 Glossy
Matt 
Matt spot
Crackle varnish
Metallic luster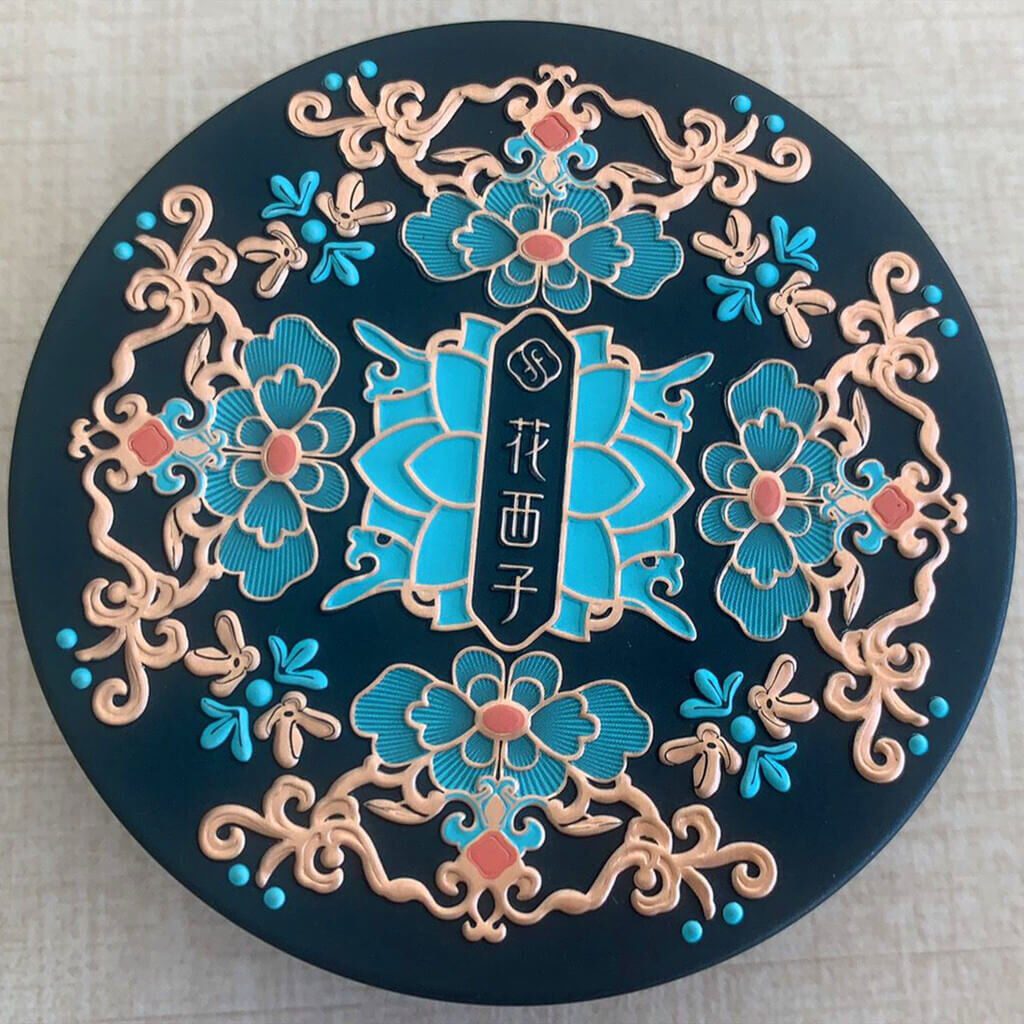 Emboss
Deboss
3D Relief
Hot stamping
Clear window 
Lastly, we will make PPS samples after confirming design drafts. Then, we can proceed further to do mass production after all the tests have been passed.
Please feel free to contact us through email if you have any queries about tin packaging. Our technicians and designers are always ready to assist you and make your idea packaging real, and you will find a one-stop solution for all kinds of cosmetic tins at Tinshine Factory.